Suddenly (Tan de repente)
(2003)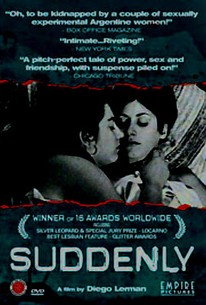 Suddenly (Tan de repente) Photos
Movie Info
A young, naive clerk at a lingerie store learns about love and her own identity in Diego Lerman's 2002 film Suddenly. Marcia (Tatiana Saphir) leads a very banal and stagnant existence, especially since her boyfriend recently dumped her. While walking on the street one day, she catches the eye of a thuggish woman named Mao (Carla Crespo) who immediately decides to have sex with Marcia solely for the sport of it. Recruiting the aid of her friend Lenin (Veronica Hassan), Mao manages to talk Marcia into getting into a cab that the two women promptly hijack. They take Marcia to the coast to see the ocean -- which she has never seen before -- before ending up at Lenin's aunt Blanca's house. Blanca (Beatriz Thibaudin) proves to be much more fascinating than Lenin remembers her to be and the two begin redeveloping a connection. Marcia, Mao, Lenin, and Blanca all affect each other in a number of unexpected ways, thereby developing new, complex relationships that each of the women had lacked in their lives. Suddenly was in competition at the 2002 Locarno International Film Festival.
Critic Reviews for Suddenly (Tan de repente)
Audience Reviews for Suddenly (Tan de repente)
½
If you are going black and white, you should have a compelling reason to do so. Instead what we have is a boring series of vignettes of three young women who aren't telling us anything particularly important.
John Ballantine
Super Reviewer
½
Two girls lure dowdy knicker seller into black and white roadtrip. An Argentinian indy film low on budget and Hollywood gloss, but high on thoughtfulness. I liked it.
Cast: Tatiana Saphir, Carla Crespo, Veronica Hassan, Beatriz Thibaudin, Maria Merlino, Marcos Ferrante, Ana María Martínez, Susana Pampin, Luis Herrera, Laura Mantel Director :Diego Lerman Summary: Two young lesbian criminals kidnap a heavy-set girl in Buenos Aires, taking her along on a road trip into the Argentinean wilderness in a hijacked taxi. It was a spur-of-the-moment thing they might live to regret. Or will they? My Thoughts: "I liked the fact it was shot in black and white. Not many director's do that, and it was beautifully done. The character's are hard to relate to or even like, but eventually you come to understand them a bit more. It's a somewhat quiet and slow moving, but it fits the flow of the film. A decent little road movie."
♥˩ƳИИ ƜѲѲƉƧ♥
Super Reviewer
Suddenly (Tan de repente) Quotes
There are no approved quotes yet for this movie.
Discussion Forum
Discuss Suddenly (Tan de repente) on our Movie forum!