Suds
(1920)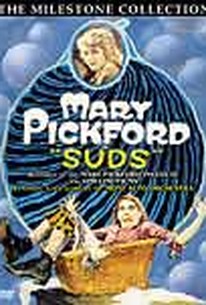 AUDIENCE SCORE
Critic Consensus: No consensus yet.
Movie Info
In Suds, America's Sweetheart Mary Pickford plays against type as a homely Cockney laundress with delusions of grandeur. Mary yearns for a Prince Charming to take her away from her rude surroundings. She throws herself at society swell Albert Austin, while delivery boy Harold Goodwin pines away for her unnoticed. Surprisingly, Pickford's dreams do not come true, and as the film ends she tearfully picks up the pieces of her life. Though it would remain one of Mary Pickford's favorite films, its doleful ending proved unpopular at the box-office. The film was based on 'Op o' Me Thumb, a one-act play by Frederick Fenn and Richard Pryce.
Critic Reviews for Suds
All Critics (2) | Fresh (2) | Rotten (0) | DVD (3)
As a part of Mary Pickford's canon of work, Suds is a minor enjoyment, giving some weight to her comedic skills, while the rest of the movie creaks along.

Audience Reviews for Suds
½
A cute and humorous little romantic comedy. Women will sympathize with Pickford's character, wanting her dream man, but unable to do anything more than fantasize. The movie is pretty funny, but it could really use more laughs. Overall, it's just pretty good.
Sometimes you finally see something that was a real source of controversy 25 or 30 years ago and it loses a lot. Watching "Deep Throat" 20 years after the fact you wonder how it caused all the fuss it did, since there have been thousands of sexier and often better porn films since. "Pink Flamingos" stands the test of time. I just saw it for the first time and even though it's 33 yearsold, it's still every bit the sick, grotesque and demented outrage it ever was. It became most famous for Divine eating dog shit at the end (which is just as gross as you'd imagine) but there's plenty of other jaw-dropping stuff, sex that involves two chickens being rubbed between the lovers' bodies, police being clubbed to death and eaten, the legendary Edie "The Egg Lady" Massey, baby-selling, cross-dressing, murder, contortionists. This puppy was one of a kind. The so-called outlaws today like Kevin Smith would never have the guts to make something this just plain wrong. And I saw it on Starz On Demand cable! This movie has explicit sex scenes they wouldn't let the Playboy or Spice Channels get away with, but somehow "Pink Flamingos" has passed into the realm of "art" and it gets shown uncut. This was even a 25th Anniversary Edition that had John Waters showing deleted scenes at the end! Well I guess it isn't like anything a sane person would call a sex film. Something this bizarre yet focused has to be a work of art. There's nothing else to call it. This is the damnedst thing to come out of Baltimore since the work of Edgar Allen Poe.
Jerome Wilson
Suds Quotes
There are no approved quotes yet for this movie.
Discussion Forum
Discuss Suds on our Movie forum!