Sugar Cookies
(1973)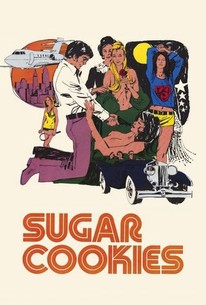 AUDIENCE SCORE
Critic Consensus: No consensus yet.
Movie Info
In this erotic chiller, a sadistic pornographer chooses the wrong two women for his latest round of mind games.
Critic Reviews for Sugar Cookies
All Critics (1) | Fresh (1) | Rotten (0)
Entertaining in a B-movie way, offering a steady stream of threatening behavior and spastic seductions to help ease an awkward Vertigo-inspired plot into place.
Audience Reviews for Sugar Cookies
½
A very early Oliver Stone (associate-)produced film, and one of the first films in the impressive career of Lloyd Kaufman (co-founder and president of the world's only real independent film studio Troma, creator of the Toxic Avenger and, at the prestigious Amsterdam Fantastic Filmfestival, lifetime-achievement awarded filmmaker for over 30 years). Having raised the money for this film on his own, Lloyd wrote this script together with Theodore Gershuni in 1970 and in hindsight regrets having listened to advice to have Gershuni else direct the film instead of doing it himself. But back then he was still inexperienced in the business and it is probably because of decisions like these that he takes no nonsense from anyone anymore. Indeed it would have been interesting to see Lloyd's version of his own script - as one of the world's most original, daring, experimental and non-compromising directors he probably would have given it even more edge than it already has. But as it is we have the Gershuni-directed film. And weather it is due to the strong script, or the fact that he too is indeed quite a director of his own, SUGAR COOKIES is a very intelligent, highly suspenseful and well-crafted motion picture that deserves a lot more attention than it receives. The shoestring budget the small studio (this was even before Kaufman and his friend and partner for over 30 years now, Michael Herz, formed Troma) had to work with is so well handled that the film looks a lot more expensive, indeed does not have a "low budget" look at all. The story revolves around lesbian Camilla Stone (played by enigmatic Mary Woronow) and her lover who winds up dead through circumstances I won't reveal not to spoil a delightful story. This leads to a succession of plot-twists, mind games and personality reform that is loosely inspired by Hitchcock's Vertigo and at least as inventive. The atmosphere is a lot grimmer, though, and some comparisons to Nicholas Roeg's and Donald Cammell's PERFORMANCE come to mind. In this mix is a very original and inventive erotic laden thriller that keeps it quite unclear as to how it is all going to end, which, along with a splendidly interwoven sub-plot with a nod to Kaufman's earlier and unfortunately unavailable BIG GUSS WHAT'S THE FUSS, makes for a very exciting one-and-a-half-hour. Certainly one of the best films in Troma's library, and yet again one of those films that defy the curious fantasy that their catalog is one of bad taste. The DVD includes some recent interviews Kaufman conducts with Woronov and the other leading lady Lynn Lowry (later seen in George Romero's THE CRAZIES), thus giving some interesting insight in what went on during the making of this cult-favorite and a few hints of what would be different had Lloyd directed it himself. Highly recommended.
Cassandra Maples
Super Reviewer
Sugar Cookies Quotes
There are no approved quotes yet for this movie.
Discussion Forum
Discuss Sugar Cookies on our Movie forum!