SuicideGirls Must Die
(2010)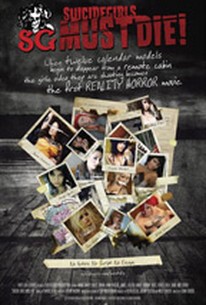 AUDIENCE SCORE
Critic Consensus: No consensus yet.
SuicideGirls Must Die Videos
SuicideGirls Must Die Photos
Movie Info
What is it about watching other people shaking in terror that freaks us out and yet still engages our attention? Why are movies like The Blair Witch Project and Paranormal Activity so successful with movie audiences? These are two horror films that blurred the lines of horror and reality.One film steps further - SuicideGirls Must Die!Here's the hook: Twelve sexy, edgy, beautiful women from the famed SuicideGirls website (SuicideGirls.com) shoot a pin-up calendar while staying at a remote cabin in Maine. One by one, the girls start disappearing, leaving the others scared and running for their lives. Seen through the eyes of both hidden and the girls' own cameras, this unscripted story captures the ladies - all non-actors and unaware their every move is being recorded - in the first reality horror movie of its kind. SuicideGirls Must Die! opens March 12 (but not in Los Angeles) from First Look Studios.I would welcome having you interview Missy Suicide, the founder of the SuicideGirls (www.suicidegirls.com was just named sexiest website by the LA Weekly). The SuicideGirls are dedicated to celebrating amazing, sexy women who fail to fit in society's mold. Fed up with the tired and predictable definition of beauty, they strive not to be like everyone else. What many people consider strange, weird or screwed up makes the SuicideGirls beautiful. With its creators based in Los Angeles, the SuicideGirls began in 2001 as a like-minded, non-traditional community, an online publication, and a collection of alternative pin-up photos. Combining the DIY attitude of underground culture with a vibrant, sex positive collective of women (and men), the company was founded on the belief that creativity, personality and intelligence are not incompatible with sexy, compelling entertainment, and millions of people agree. --© GS Entertainment
Critic Reviews for SuicideGirls Must Die
All Critics (3) | Fresh (1) | Rotten (2) | DVD (1)
Stick to what you know: Modeling and looking gorgeous. The world has enough aspiring actors...

As a promotional tool this is without a doubt a five-star affair, but beyond that? Not so much.
Audience Reviews for SuicideGirls Must Die
I watched Suicide Girls Must Die because I thought it was a found-footage horror film starring the girls from the eponymous erotica site. Unfortunately, it was nothing more than a slow, sometimes funny but mostly boring faux slasher film that never features any death scenes and instead focuses on the girls talking and being nude. Not even the nudity was enough to make it interesting....
Al Miller
½
It was ok at best. If your a fan of SG you will enjoy it. But other than that it's a lame Blair witch knock off.
Jay Lev
½
The pseudo-documentary film goes too far. Yes, many of the ladies are attractive and get to bare all, but it's still wrapped up in a close to unwatchable package.
SuicideGirls Must Die Quotes
There are no approved quotes yet for this movie.
Discussion Forum
Discuss SuicideGirls Must Die on our Movie forum!