Suing the Devil
(2011)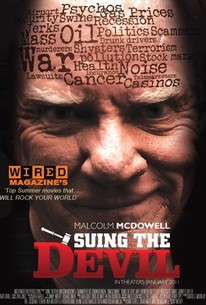 AUDIENCE SCORE
Critic Consensus: No consensus yet.
Movie Info
Suing the Devil revolves around a landmark legal battle, in which a down and out law student Luke O'Brien (Bart Bronson) sues Satan for $8 trillion dollars. Just as Luke is about to file a default judgement, Satan (Malcolm McDowell) himself appears to defend himself. Armed with a legal team of the United States' best trial lawyers, the entire world watches intently to see who will win this Trial of the Century. -- (C) Official Site
Critic Reviews for Suing the Devil
All Critics (1) | Fresh (0) | Rotten (1)
Aiming for some theoretical sweet spot between comedy, courtroom drama and Up-with-Jesus! sermonizing, this inane film can't even be saved via attempted personality transfusion from Malcolm McDowell. 'Trial of the century,' huh? Only in movie hell.

Audience Reviews for Suing the Devil
I had the pleasure of having an actress as a friend while I was living in Australia. She mentioned that she was going to be an extra in a movie, and although we made plans to watch it together, I had to leave the country. Thank God I never had to see it with her... Years later she sent me a link to this film on IMDb, and said "oh you should check this movie out. This was the one that I told you about... I played one of the jurors." And since it had been a while I thought; oh why not? It's got Malcolm McDowell, how bad can it be, despite the low rating? Dear sweet lord it was worse than I thought. The acting is terrible to put it gently, even McDowell couldn't pull out a single believable moment to hold the viewer's attention. There is an ensemble cast of first timers, poor talent, and just terrible delivery throughout. The plot is even worse. In a misguided attempt to create a modern Christian comedy, they try and dupe you with what you think will be a funny little courtroom comedy. It's not. It's actually a really bad drama, like a film student's first attempt. I don't think anyone chose what theme they were going for when they made this movie. There is so much Christian rhetoric in this trash that I was literally yelling, "oh just shut it!" at the television. If you don't believe me, just listen to the song in the credits. Better yet, don't watch this movie at all and save yourself a lifetime of regret. Do NOT watch this garbage. 0.5/5 (this is certainly the lowest rating I have ever given. If there was something lower than .5, this movie would get it)
Kevin Davies
Another reviewer said "What an amazing concept...trapped in a truly awfully directed, produced, and acted movie" I couldn't agree more. They could have and SHOULD have done a much better job with every aspect (including more effectual use of the great actor they had in McDowell). I wasn't sure if this was a drama, comedy, christian film or spoof. The lead was oblivious and unbelievable - to the point that every time he mentioned Jesus' name I wasn't sure if he was sincere or blasphemous. In the end, I really like the concept and, of course, the message, but it was so poorly communicated that without a post-film explanation, I'm afraid it was lost on the vast majority of the audience.
John Wagner
½
If there wasn't for Malcolm McDowell's terrific portrayal of Satan this film would be the worst ever made. If I didn't know any better I'd say it was intentionally so. The actors are the worst you can find these days (particularly Bart Bronsen), the script is absolutely awful with hammy lines of dialogue and the directing is at the level of Tommy Wiseau. Still McDowell is worth seeing (despite it not being one of his greatest portrayals) he is the Devil.
Matthew James
Suing the Devil Quotes
| | |
| --- | --- |
| Satan: | God killed over 100 million people in the flood |
| Satan: | God killed over 100 million people in the flood. |
| Satan: | Satan starts wars |
| Satan: | Satan starts wars. |
Discussion Forum
Discuss Suing the Devil on our Movie forum!