The Sum of Us
(1995)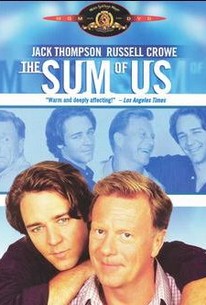 Movie Info
The relationship between a gay son and his straight father is chronicled in this honest Australian drama. Harry Mitchell is a widower living with his son Jeff. Harry has always accepted his son's sexual orientation, but the sincerity of his acceptance is questioned when Jeff brings a potential lover home.
Critic Reviews for The Sum of Us
Audience Reviews for The Sum of Us
½
In 1994, I would imagine the idea of father and son, straight and gay, accepting each other without question would have been more groundbreaking. Hopefully in the 20 years since, this would not be such an unusual story.
½
Beautifully acted by two fine actors with a refreshing attitude to a modern father-son relationship.
½
[font=Century Gothic]In "The Sum of Us," Jeff(Russell Crowe), a 24-year old plumber who lives at home with his dad, Harry(Jack Thompson), is attracted to Greg(John Polson), a gardener he has talked with at the pub a few times. Jeff feels that this is the big night and Harry promises to stay out of the way.(Despite their friendship, the two men do have a tendency to drive each other crazy as housemates.) Harry, a widower, is also planning on getting back into the dating scene as he contacts a dating service and arranges a date with Joyce(Deborah Kennedy), a middle-aged divorcee.[/font] [font=Century Gothic][/font] [font=Century Gothic][/font] [font=Century Gothic]"The Sum of Us" is about how playing a gay character in a movie may not necessarily be detrimental to an actor's career. Its positive stance on openmindedness sometimes threatens to push the movie over the line into public service announcement territory but it avoids that fate by having a good eye for characterization. Also, its message about acceptance is broad enough to include living at home with parents and working class occupations. Certainly, there is nothing wrong with working with your hands. [/font] [font=Century Gothic][/font] [font=Century Gothic]The central theme of the movie is love and how it is passed down from generation to generation. Some people may be freaked out by Harry's behavior but in an ideal world, that is how fathers should act. But to be honest, I have no problems with the cordially laconic relationship I have with my father.[/font]
The Sum of Us Quotes
There are no approved quotes yet for this movie.
Discussion Forum
Discuss The Sum of Us on our Movie forum!