Summer Lovers
(1982)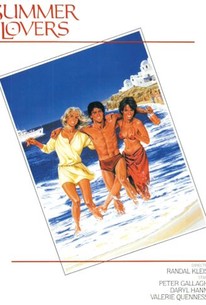 Movie Info
Set upon a romantic Greek island, this drama chronicles the experiences of a pair of young American adults who go there for summer vacation. Their idyll is interrupted by a sexy archaeologist who has come there to work on a dig.
Critic Reviews for Summer Lovers
All Critics (5) | Top Critics (1) | Fresh (0) | Rotten (5)
It's a good thing Summer Lovers is such a physical beauty, because there's not much occurring inside its handsome head.

Beautiful locations and a goofy story

Audience Reviews for Summer Lovers
½
Summer Lovers (Randal Kleiser, 1982) Back in the dark ages, when we had just moved (I can't remember where we had moved from or moved to; we did a lot of that sort of thing in the early eighties), my parents got this amazing new technology called cable television, and as a side perk they got a pay service called Home Box Office, which at the time was still a relatively young upstart. To say my preteen world was instantly changed would be an understatement. Those first few months with HBO changed the way I looked at the world of film (and the way I consumed film; I lost count within a week or two of the number of times I watched Hangar 18 and The Return). I, a suburban pre-teen who was absurdly grateful to have been able to catch such seemingly-obscure movies as Phantasm and Deathsport at the local multiplex just a few years before, was suddenly introduced to a whole world of foreign films, obscure classics, B movies... and sex films. Not in the sense of porn, or in the sense of softcore (a subgenre which I am convinced sprung up solely to serve the pay movie channel market), but movies that had sex as a main theme. Talk about horizon-broadening for someone who grew up in a sexually repressed household. When the parents were asleep, I'd sneak down to the living room and catch late-night screenings of movies like Personal Best and Making Love. Eventually, of course, the parents caught on and stopped me from doing such things, but I could still read the movie descriptions in the guide and fantasize. Summer Lovers hit HBO right around that time, and when you're thirteen years old and popping with hormonal activity, reading a movie description about a Greek vacation that involves a guy and two lovely ladies getting up to all kinds of wicked fun was fodder for years of fantasies. When I finally got a chance to watch the movie, thirty years had passed. To say my fantasies had done it better was an understatement on a level of magnitude I'm not sure I can put into words. Plot: Michael Pappas (sex, lies, and videotape's Peter Gallagher in his second feature) and his naïve-but-horny girlfriend Cathy Featherstone (Daryl Hannah, who also appeared in Bladerunner the same year) head to Greece, Michael's homeland, for a summer vacation filled with nude beaches, liquor, and badly-played acoustic guitar. All is going well until Michael becomes obsessed with Lina (Bolero's Valérie Quennessen in her final feature), a French archaeologist on the island for the summer to assist in a local dig. Needless to say in the pre-AIDS world of casual encounters, Michael and Lina wind up in bed, there is some hair-tearing by both Michael and Cathy when he confesses, and she decides to play the open relationship game as well. But none of the island guys, all of whom come off as brash (though beautifully tanned, natch), do it for her. And she winds up confronting Lina... The first, and biggest, complaint I have: all of this is set to one of the worst soundtracks I have come across in recent memory, all awful treacly American pop I can't imagine the native folk on a small island in a country famous for its music would allow anywhere near its borders (we're talking about the worst excesses of Chicago, the Pointer Sisters, etc.). I have read a review or two that calls the soundtrack "intrusive". I commend the reviewers on their restraint. When you get to the final scene and see what Kleiser does with the music there, you will find yourself with the conflicting urges to vomit and laugh hysterically. Don't do both simultaneously, that could be fatal. Second: for a movie that put itself out there as transgressive, not that anyone had heard that term in 1982 but it fits, it's almost unbearably restrained. Most notably, while it is implied during the first couple of meetings between Cathy and Lina that the two of them have jumped into bed at least once, every time there is some sort of contact that would seem to naturally involve all three of them, Kleiser (who also wrote the script) shies away, instead having two of our participants kick things off while the third watches (with Michael always being one of the two)-and while I could understand and forgive this based on the mores of Hollywood at the time were Kleiser to even feint in the direction of "we gave you a polyamorous relationship, we'll at least give you leads towards imagining these folks in a threesome", nope, we never get it. None of the relationship movies any of our three principals makes in the movie makes a damn bit of sense, not only as realistic life choices, but more confusingly, even as the fevered imaginations of a teenaged boy (or a middle-aged scriptwriter)! All that said, there are a few scenes here that, while not making the movie worth watching, are arresting in some way, either visually (Michael's first visit to a nude beach with Lena, where he not-so-idly pours a trail of sand and gravel from her navel to her breasts in delicious close-up) or conceptually (Cathy's mother and her best friend pay a surprise visit to the island and try to process everything they witness with highly amusing results). If you stumble onto the movie and decide to watch it, these are what you will take away with you... which is a far cry from what you probably think you will take away with you. * 1/2
Robert Beveridge
Sexy Sexy Summer Long Menage a Trois with Beautiful views of the Greek Isles.You can surely see what John John Kennedy saw in Daryl Hannah, & it wasn't her acting.
Marilee Aschwanden
A strange romance movie, I saw it a very long time ago and I didn't care for it, but maybe I should see it again?
Summer Lovers Quotes
| | |
| --- | --- |
| Lina: | Jealousy doesn't show how much you love someone, it shows how insecure you are. |
Discussion Forum
Discuss Summer Lovers on our Movie forum!