Summer of Blood
(2014)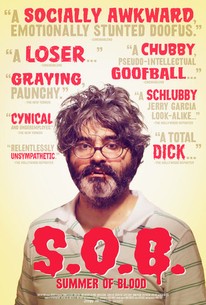 Movie Info
Writer/director Onur Tukel turns in a hilarious performance as the monumentally lazy, socially oblivious and commitment-shy Erik Sparrow, who is dumped by his career-woman girlfriend (Anna Margaret Hollyman, White Reindeer) when he rejects her rather charitable marriage proposal. Feeling lost, he turns to a disastrous string of online dates that successively eat away at his already-deteriorating confidence until a lanky vampire turns him into an undead ladykiller. Soon, Eric is prowling the streets of Brooklyn in search of anything to satisfy both his maniacal sex drive and his hunger for blood. A collision of absurd, self-deprecating wit and existential curiosity, Summer of Blood is a hilarious horror-comedy with a clever bite all its own. (C) Dark Sky Films
News & Interviews for Summer of Blood
Critic Reviews for Summer of Blood
Audience Reviews for Summer of Blood
½
I wouldn't call this a conventionally funny movie, in the sense that the film isn't a laugh a minute indie comedy. It's mostly a cynical, misanthropic character study of this man who's oblivious to the fact that everyone around him thinks he's a dick. Whether it's due to his obliviousness regarding everything, or the fact he doesn't take anything seriously, his somewhat unintentional misogynistic viewpoints, it's kinda hard to like this man, for the most part. The film has kind of a hipster feel and tone as to how the story plays out and how talky it is. Because of that, the dialogue-heavy, droll writing, some people will absolutely detest this movie. Can't say that I blame them, this style is more of an acquired taste but I like to keep my mind open. I don't like to dismiss movies just based on whether or not I like the style of writing, cinematography, or acting. A good movie is a good movie and that is all I care about to be honest. Of course, I wouldn't say that this is a good movie at all. The idea of taking vampire tropes and turning them upside down in this indie setting is a good idea. I just found that the movie is a little bit all over the place without a real strong narrative tying all of it together. It certainly tries as Erik, the protagonist, once he turns into a vampire, realizes that he wants all of the things that he was afraid of at the beginning. He also realizes that being a vampire kinda sucks. While it has its benefits, to him, at first. He starts to grow tired of it and wishes to find a way to get rid of it. Erik's ways starts to change as he begins to appreciate what he had with his ex-girlfriend and what he can do to regain that. It's ok, but I don't think it's strong. I think the film is a little bit disjointed and uneven at times. If it focused strongly on this aspect of the character, it would've been better. It's not that the movie doesn't try, it's just that it doesn't do so successfully. The funny has some funny lines, but there's nothing really laugh out loud here, at least to me. There's a funny moment of Erik and the dude that bit him who, on the sidewalk, share a drink of blood from this dude all the while they're having a very casual conversation. It's not hilarious, but it is amusing nonetheless. The acting is fairly decent all things considered. It fits the style perfectly, so nothing to complain about there. I wouldn't really recommend this movie to everybody, it really is an acquired taste, but I think it offers a fairly unique view at the vampire genre. So, at the very least, you get that. It might not be good or anything, but at least it tries to do something different. Average movie at best. Won't miss anything if you decide to skip this.
Jesse Ortega
Super Reviewer
Summer of Blood Quotes
There are no approved quotes yet for this movie.