Summer Palace
(2006)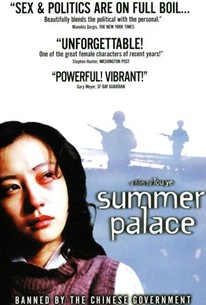 TOMATOMETER
AUDIENCE SCORE
Critic Consensus: Though it suffers from excessive length and inconsistent pacing, Summer Palace is held aloft by Hao Lei's riveting performance.
Movie Info
A romance takes place against some of the most turbulent events in recent Chinese history in this epic-scale story from filmmaker Lou Ye. Yu Hong (Hao Lei) is a beautiful 17-year-old girl who is soon to leave the small border town where she was born and raised to attend college at Beijing University. Shortly before Yu Hong leaves for school, she gives her virginity to her longtime boyfriend, Xiao, and pledges to remain faithful to him. At Beijing University, Yu Hong makes friends with Li Ti (Hu Ling), another girl dealing with a long-distance relationship, and meets Zhou Wei (Guo Xiaodong), a handsome student who soon steals her heart. Yu Hong leaves her relationship with Xiao behind to commit herself to Zhou Wei, and she's swept up by her feelings for him as they embrace the new social and economic freedoms which are being felt on campus. The empowerment felt by the students in Beijing comes to a head during a series of demonstrations in Tiananmen Square; the protests have tragic consequences, and the excitement of new possibilities gives way to a feeling of defeat. Yu Hong and Zhou Wei are separated and the heavy hand of the state is brought to bear on the rebellious students. The first Chinese film to feature full-frontal male and female nudity, Yiheyuan (aka Summer Palace) received its world premiere as an official selection at the 2006 Cannes Film Festival.
News & Interviews for Summer Palace
Critic Reviews for Summer Palace
Audience Reviews for Summer Palace
½
Summer Palace a Chinese movie that caught my attention from the moment it started on my screen.A young girl encountered her first experiences with love and sex. The movie showed huge changes China was undergoing in the mid-eighties.She was excepted at university in Beijing and met a guy who she fell madly in love with.The acting directing, editing,photography all was very breathtaking. The story was heartbreaking as we followed these 2 student during the protests and how they lost sight of each other and lived separate lives.Sex was an important part of the movie, since it expressed passion, but still it did not have a happy ending and it had a message that you have to discover by thinking and feeling the movie.
Daisy Maduro
Super Reviewer
Even thought I am rating this a 3 Star, its still a pretty good flix, more of a chick flix, about a young lady in china, and the movie is made from her diary. Some Nudity, so those girls under 18 hide your eyes, yea right, if you enjoy this one let me hear from you. bbcfloridabound@yahoo.com
Bruce Bruce
Super Reviewer
½
[font=Century Gothic]"Summer Palace" starts in 1987 with Yu Hong(Lei Huo) who lives near the North Korean border being accepted[/font] [font=Century Gothic]to Beijing University where she does not exactly fit in. Sensing her loneliness, Li Ti(Ling Hu) befriends her, saying most people think either she has had her heart broken or she is a lesbian(Well...) Li Ti even goes further, introducing her to her boyfriend, Ruo Gu(Xianmin Zhang), and their mutual friend, Zhou Wei(Xiaodong Guo).[/font] [font=Century Gothic][/font] [font=Century Gothic]When "From Here to Eternity" starts in Hawaii 1941, it is immensely clear where the movie is heading and what the climax will be. In "Summer Palace," there is a similar sense of foreboding concerning the Tiananmen Square protests of 1989(Which does seem like it might have been a seminal year but not when you are living through it.) but here it is anticlimax. After that event, the movie skips ahead to 1997 before finally coming to a halt in 2001.(The movie might have had a chance if it had been less linear.) While it does seem to go on forever, it also gets the college experience just right(That beng said, I am just grateful I never had to use a bedpan) but I do not remember that much sex in college.(Well, I am glad at least somebody was getting some.) And at this quantity and explicitness, it does get very tedious quickly. [/font] [font=Century Gothic][/font] [font=Century Gothic]Considering the setting, "Summer Palace" is strangely devoid of politics which trivializes the student activism of the time and place. For example, there is a scene where there is a political meeting but a character simply says it is boring and that is it.(Which reminds me why I love Ken Loach so much...) No matter where you go, college is a staging area where students are introduced to a panoply of ideas. In conclusion, education does not end at graduation but the movie should have been over by then.[/font]
Summer Palace Quotes
There are no approved quotes yet for this movie.