Sun cheung sau (Godly Gunslingers) (The Sniper)
(2009)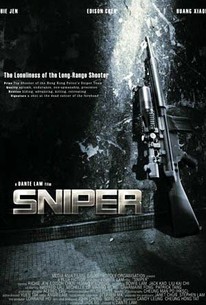 AUDIENCE SCORE
Critic Consensus: No consensus yet.
Sun cheung sau (Godly Gunslingers) (The Sniper) Photos
Movie Info
An Asian police sniper team gets cross-sectioned in this slick, über-masculine thriller from Hong Kong director Dante Lam. At the heart of it all is the warped, ongoing rivalry between psychotic ex-leader Lincoln (Huang Xiaoming) and current leader-commander Hartman (Richie Jen). Lincoln just finished four years of incarceration for manslaughter thanks to a job that didn't go as planned, leaving him with bitter hostility and resentment; moreover, each leader carries around a twisted, complicated personal history. These factors repeatedly put the two at odds, leading to an eventual onslaught of orgiastic violence and a rapidly-escalating body count.
Critic Reviews for Sun cheung sau (Godly Gunslingers) (The Sniper)
There are no critic reviews yet for Sun cheung sau (Godly Gunslingers) (The Sniper). Keep checking Rotten Tomatoes for updates!
Audience Reviews for Sun cheung sau (Godly Gunslingers) (The Sniper)
Apparently Edison Chen has been a bad boy. At least that's what I've read. Regardless, The Sniper is not going to reinvent the wheel; but it does approach its plot with a certain snazz that I couldn't help but smile at. The basic thrust of the film is that a Hong Kong police sniper team has just recruited a new hotshot shooter (Chen) who is shaping up to be just as good as their last top shooter. Turns out, that last guy (Xiaoming Huang) went to prison for head-shotting a hostage during a classic standoff/cluster sitch. Now he's out of prison and decides to go rogue. Son of a... Needless to say, the sniper scenes (both the action and training ones) are very cool. The rest? Not so much. One of the good guy snipers has a subplot about his suicidal wife that goes absolutely nowhere. Chen's character has his own subplot concerning his scummy dad that has a grand total of one scene. Apparently Chen's real life hijinks caused the film to be cut significantly, which may be why there's so many loose ends. The villains of the film have nothing to do but serve as devices for the rogue sniper's plot arc. They could have been more important to the story and still have co-existed with Huang's character. Aside from the young hotshot and two other snipers (including Richie Ren as the team leader), the rest of the team remains virtually silent and unknown. They have cool code names like Forest King, Iceman and Rabbit - but no back story or anything memorable about them whatsoever. The Sniper isn't doing anything new, but what it does do is just entertaining enough to enjoy it for its short running time. The English translation of the original title is Godly Gunslingers. That's right up there on the awesome title list with Hard Boiled's literal title of God of Guns. Dante Lam probably pulled his fair share of hair out on this shoot, but I wager he'll bounce back nicely. His next movie, Fire of Conscience (For lung), is already getting good buzz. So, there you go. lMC
Nathan Ludwig
The Sniper is a decent Hong Kong thriller from Dante Lam.
The run time may be under 90 minutes, but it doesn't feel that short. It isn't that the film sucks, but more the fact that it is a tad slow and boring at times. The plot itself isn't too bad, despite the fact that there is a mini-twist near the end which doesn't do much. However, the plot isn't that great either. One can see that the characters are being built, but it just isn't done effectively, as there isn't much to care for in them.
When all is said and done, this film comes down to the sniping, and this is what we want to see. There is a moderate amount of action, which is quite good, and most of it comes in the final 30 minutes. Believe it or not, but one of the better sequences doesn't even involve sniper rifles.
Richie Ren, Xiamong Huang, and Edison Chen give modest performances. When compared to the first two, Chen has the least amount of airtime. This is unfortunate since he does have an integral role in the story.
The Sniper isn't a waste of time, but it isn't a film to rush out for. Fans of Hong Kong crime thrillers should check it out if time arises.
½
Cheesey but good, this is good old Hong Kong cinema at it's finest. Guns, cops, gangsters, crooked cops, and pretty-boy actors involved in scandals - what's not to love!!! The action was pretty good throughout the film with the final shootout of course being the highlight. Enough drama and storyline to fill in the spots in between the gunfights and sniper action. Yeah so the "villain" was a little overacted maybe with his terrorizing past, but hey that's what we love about HK cinema. Worth watching, it's not as bad as the summaries make it out to be!
Zachary Long
Sun cheung sau (Godly Gunslingers) (The Sniper) Quotes
There are no approved quotes yet for this movie.
Discussion Forum
Discuss Sun cheung sau (Godly Gunslingers) (The Sniper) on our Movie forum!