The Sun Shines Bright
(1953)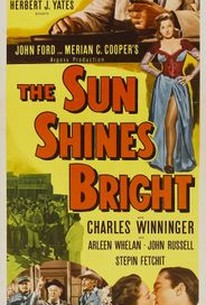 AUDIENCE SCORE
Critic Consensus: No consensus yet.
Movie Info
Director John Ford, notoriously difficult to please, regarded The Sun Shines Bright as his favorite film. Laurence Stalllings' screenplay is based on several short stories by Kentucky humorist Irvin S. Cobb, some of which had previously been cinematized in Ford's 1934 Will Rogers vehicle Judge Priest. Charles Winninger stars as Judge William Pittman Priest, whose down-home, common-sense approach to his job has endeared himself to most of the residents of his small Kentucky home town, while alienating many of the "better" people. Up for election, Judge Priest is challenged by a Yankee upstart who has most of the influential citizens in his pocket. Almost deliberately courting defeat, the doggedly honest Priest champions several unpopular causes. In the film's most memorable scene, the Judge arranges a fancy funeral procession for an impoverished town prostitute. The film retains much of the charm of its predecessor Judge Priest; unfortunately (at least by P.C. standards), The Sun Shines Bright also retains the most questionable aspect of the earlier film: the stereotyped routines of African-American comedian Stepin Fetchit. One hardly knows how to react to the sequence in which the supplicative Fetchit tries to hush up a defiant young black man who is in danger of being lynched (Ford plays this scene for laughs!) While Fetchit's participation will hardly endear the film to modern audiences, it is unfair to write off the rest of The Sun Shines Bright, which otherwise fully lives up to director Ford's affectionate assessment. Long available only in its 90 minute release version, the film has in recent years been restored to the 100-minute "director's cut." ~ Hal Erickson, Rovi
Rating:
NR
Genre:
,
Directed By:
Written By:
In Theaters:
On DVD:
Runtime:
Studio:
Republic Pictures Corporation
Critic Reviews for The Sun Shines Bright
All Critics (3) | Fresh (2) | Rotten (1)
Nostalgic for a world he never knew and which never really existed, progressive-minded and a little reactionary at the same time, innately sad for the passing of an era, deeply humane, and, yes, with a dash of utterly arbitrary beefcake.

Mountain Xpress (Asheville, NC)
A marvelously entertaining film, laid back and effortlessly told, despite the social commentary and intertwining subplots.


Ozus' World Movie Reviews
Audience Reviews for The Sun Shines Bright
One of the most egregious forms of bigotry is bigotry under the guise of liberalism. Ford wants us to treat blacks as equals, but paints them in ugly stereotypes, ridiculous caricatures who have no ambition but servitude to their white superiors. I kept waiting for one of them to blurt out "I sho do love me some white folk!". The courtroom scene is almost as offensive as anything from Birth of a Nation. The white characters aren't much better, and tend towards either "annoying" or "bland". And then there's the usual sentimental hooey about God and country, and a disturbingly affectionate stance towards the Confederacy. Plus, alcoholism is portrayed as a charming character trait. There's a few good scenes, but Ford's predilection for myth-making taints even those. Thankfully not as awful as Tobacco Road, but definitely not my sort of thing.
Martin Teller
The Sun Shines Bright Quotes
There are no approved quotes yet for this movie.