Sunday in the Park with George
(2002)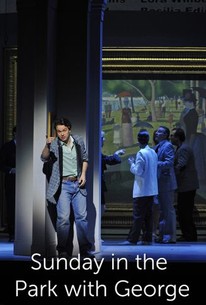 AUDIENCE SCORE
Critic Consensus: No consensus yet.
Sunday in the Park with George Videos
Sunday in the Park with George Photos
Movie Info
James Lapine directed this television adaptation of his acclaimed musical, which he created in collaboration with the great composer Stephen Sondheim. In the first act, artist Georges Seurat (Mandy Patinkin) is working on his latest painting with the woman he loves, Dot (Bernadette Peters), posing for him. The work is to become the impressionist masterpiece Sunday Afternoon on the Isle of La Grande Jatte , and along with Dot, Georges interacts with the various people who happen through the park and become characters in his painting. In act two, Seurat's great grandson George (also played by Patinkin) and his grandmother Marie (also played by Peters) return to the place where Seurat had created his masterpiece 100 years earlier. George, a sculptor, is in dire need of inspiration, and the visit leads both him and Marie to ponder their ideas of what is art, and what is life. This performance of Sunday in the Park with George also features Charles Kimbrough, Barbara Byrne, and Brent Spiner (the latter before he gained fame as Data on Star Trek: The Next Generation).
Rating:
NR
Genre:
, ,
Directed By:
Written By:
In Theaters:
On DVD:
Runtime:
Studio:
Warner Home Video
Critic Reviews for Sunday in the Park with George
There are no critic reviews yet for Sunday in the Park with George. Keep checking Rotten Tomatoes for updates!
Audience Reviews for Sunday in the Park with George
Not one of my favorite Sondheim musicals. The music was great as always, but the story was a bit confusing.
Chris Schaben
Colour and Light A couple of years ago, we talked some about how hard it is sometimes for Sondheim fans. He's probably one of the best-known creators in the history of musical theatre, for what that's worth, but at the same time, we are doomed, in a way, to disappointment. This came to Seattle, last year, one of three stops the tour was doing in the entire country. (Why Seattle? Your guess is as good as mine.) I desperately, desperately wanted to go. However, the cheap seats started at forty dollars, which I couldn't really afford, and I'd really want two, because I wouldn't want to go alone--it's not as much fun, for starters--and I would have had to have gotten there and back, and what with one thing and another, it didn't happen. I'm told the movie of [i]A Little Night Music[/i], one of the two I've seen live, is dreadful. And we are never, ever getting a movie version of [i]Assassins[/i]. I know I said that about [i]Sweeney Todd[/i], years ago, but that's a normal movie compared to what [i]Assassins[/i] would be. And this is an episode of [i]American Playhouse[/i] anyway--and they didn't even do that for [i]Assassins[/i] when it was on Broadway and starred Neil Patrick Harris. Dot (Bernadette Peters) is the model for and lover of painter Georges Seurat, who invented what is generally referred to as pointillism but which he considered Neo-impressionism. It makes Dot's name a not-very-subtle pun, you see. Anyway, every Sunday, he and Dot go out to La Grande Jatte, an island in the river half an hour from the city, which is a park where people go on Sunday to get away from their daily lives. Georges paints the various regulars, including his "dotty mother" (Barbara Bryne), who doesn't recognize him half the time, and her nurse (Judith Moore); fellow painter Jules (Charles Kimbrough) and his wife, Yvonne (Dana Ivey), and daughter, Louise (Natalie Polizzi); a surly boatman (William Parry) and his dog; Celeste (Melanie Vaughan), Celeste (Mary D'Arcy), a solider (Robert Westenberg), and his companion (a large cardboard cutout); servants Freida (Nancy Opel) and Franz (Brent Spiner); and Louis (Cris Groenendaal) the baker. And one by one, they are painted onto that giant canvas. Act II features George (Patinkin) and his grandmother, Marie (Peters), who claims to be Georges' daughter by Dot. And George goes back to Paris to connect. I think I saw this painting once, many years ago. I know I have seen some Seurat, and I know my experience with it sadly parallels the original exhibition of the painting. It was 1984, and a tour of Impressionist paintings did a stop in Los Angeles--which makes sense, especially given it was very close to the Olympics. My mother is a member of half the museums in LA, so we went, my mother seeming to be of the opinion that you should experience as much art as possible when you have the chance. I would not turn eight until later that year, and while I think I was tall for my age, a tall eight-year-old is still generally shorter than even a short adult. In practical terms, this meant that I wasn't able to stand far enough away from the painting to get a good look without an adult standing in front of me. It was also rather dim in there, which is intended to keep the colours from fading and the paintings otherwise getting damaged, I know, but you do need a certain amount of light to get the right effect, and I didn't. All of which makes the painting the only reason I have any interest in going to Chicago. We do not, the musical tells us at the beginning, know much about the life of Georges Seurat, but we know that this isn't it. He did have a commonlaw wife, but she was still with him when he died. They had two sons, neither of whom survived. One rather suspects their life would be difficult to hang a musical off of, and it would be impossible to do the second act, given the line is extinct. And, of course, all the other characters have sprung from the brow of Zeus, as it were; heck, there is that soldier played by a giant cardboard cutout (well, probably something sturdier), which is definitely Sondheim amusing himself. In the second act, Blair Daniels (Barbara Bryne) talks about the mysterious rectangular object in the painting, which is apparently said to be a baby carriage, but the point is more than we know so little about the man that it almost is a guess. For some reason, this painting attracts notice--see also Cameron staring at it during the pause in the hilarity of [i]Ferris Beuller's Day Off[/i]--and if you have to invent the painter to make the story, well, that's art. I think Sondheim gets a bad rap in certain circles because his tunes aren't hummable. This is, of course, generally true, though I'll find the melodies haunting my brain for days sometimes. However, what is more likely to get stuck in my head is the lyrics. They are witty and clever and full of improbable rhymes and rhyme schemes. Leonard Bernstein believed this to be a deeply personal statement on Sondheim's part, and it is certainly true that it says a great deal about art and the drive to create it. What it says about Sondheim's relationship with women is perhaps best left unexplored, though I think it worth noting that both Georges and George which their relationships could be other than they are. George hurts Dot a great deal, more than he may realize, but he does it because he thinks hurting her in that way is better than continuing to hurt her in the way he has been. It is best, in the end, that she leaves him. Probably.
Edith Nelson
½
Art isn't easy is the common mantra running through Sondheim's musical treatment of the life of George Seurat, but damn if it isn't made to look just that.
Manny Casillas
Sunday in the Park with George Quotes
There are no approved quotes yet for this movie.