Sundown
(1941)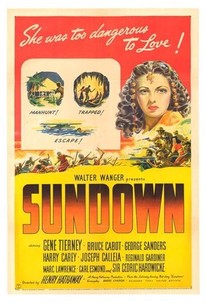 AUDIENCE SCORE
Critic Consensus: No consensus yet.
Movie Info
Adapted by Barre Lyndon from his own Saturday Evening Post short story, Sundown takes place in Africa during WW2. British army major Coombes (George Sanders) cannot abide the local Arab population, and he has even less time for district commissioner Crawford (Bruce Cabot), who has befriended the natives. Crawford is particularly fond of the beautiful Zia (Gene Tierney), whom Coombes suspects of being a Nazi sympathizer. But when the British troops must make their way through treacherous uncharted territory, they are forced to rely upon the guidance of the enigmatic Zia. Cedric Hardwycke spouts reams and reams of symbolic dialogue as the local British bishop, while among the native extras is a very young Dorothy Dandridge. Impressively photographed (by Charles Lang) and directed (by Henry Hathaway), Sundown just misses being as profound as it obviously wants to be.
Rating:
NR
Genre:
, ,
Directed By:
Written By:
In Theaters:
On DVD:
Runtime:
Studio:
United Artists
Critic Reviews for Sundown
All Critics (1) | Fresh (1) | Rotten (0)
[A] dazzling combination of Charles Lang's Oscar-nominated photography and director Henry Hathaway's expert staging of several night battles.

Audience Reviews for Sundown
½
Not bad desert pic set in a time of colonialism in Kenya. Gene Tierney is fantastically beautiful but still green in front of the camera and miscast but she tries. George Sanders gives the best performance and seems looser than usual.
As World War II rages, District Commisioner Crawford (Cabot) and British Army officer Major Coombs (Sanders) get wind of a plot by the Nazis to arm violent North African tribes and set them upon the Allied forces. An exotic, mysterious caravan mistress (Tierney) arrives at their isolated outpost, but is she a friend, or is it her extensive trading network that the Nazis are using to move their weapons shipments? [center][img]http://www.geocities.com/nuelow/movsundown1.jpg[/img] [i]The beautiful Gene Tierny stars as a mysterious merchant princess in "Sundown"[/i][/center] "Sundown" is a fairly run-of-the-mill colonial drama, with the steadfast British troops and their valiant native allies standing fast against those who would bring low Britain. It's got a more interesting cast of characters than many of these films--with the liberal minded Crawford truly standing out--and the cast is mostly excellent. The film also benefits from a more exotic locale than many of these films, and the gorgeous photography takes full advantage of this, as does the script. (One bit of repetition that made me scratch my head: why did the bad guys always get gunned down in pools of water?) Aside from the great camera work, another reason to see "Sundown" is the presence of the absolutely gorgeous Gene Tierney. She truly is one of the most beautiful actresses to ever appear on film, and she doesn't do a whole lot more than walk around looking exotic and gorgeous here. If you haven't seen Tierney do majestically beautiful, you need to see this movie. Sundown Starring: Bruce Cabot, Gene Tierney, and George Sanders Director: Henry Hathaway
Steve Miller
Sundown Quotes
There are no approved quotes yet for this movie.