Sunflower
(2007)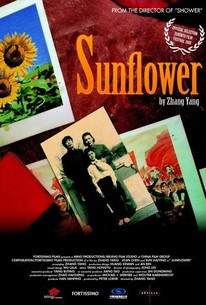 Movie Info
"Sunflower" is a powerful and touching look at the compelling inner dynamics of one post-Cultural Revolution family in Beijing and their struggle over 30 years to adjust to each other as the fabric, politics, and social mores of Chinese society change ever so rapidly. It spans the course of three decades--focusing on the years 1976, 1987 and 1999--in the lives of Zhang Gengnian and his son, Xiangyang.
Rating:
NR
Genre:
, ,
Directed By:
Written By:
In Theaters:
On DVD:
Runtime:
Studio:
Seville Pictures/New Yorker Films
News & Interviews for Sunflower
Critic Reviews for Sunflower
Audience Reviews for Sunflower
Chinese drama about a father, returned from 6 years in a work camp, and his son, who's going to be an artist like dad whether he likes it or not. Interesting, and no doubt fully approved by the Chinese government.
½
[b][size=5][color=brown]向日葵 - SUNFLOWER (SUNCOKRET) (2005)[/color] [/size] [img]http://upload.wikimedia.org/wikipedia/en/thumb/9/94/Sunflower_Poster.jpg/200px-Sunflower_Poster.jpg[/img] [color=red][i]Ova drama iz Kine u režiji Zhang Yang-a (SHOWER) ide u detalje analizirajući život kineske porodice u vreme kulturne revolucije i prvog dela XX veka. [img]http://images.rottentomatoes.com/images/movie/gallery/1185558/photo_02_hires.jpg[/img] Odrastanje dečaka koji ima problema prihvatiti oca koji se vraća sa odsluženja kazne je tema koja polako prelazi u odrastanje i shvatanje okoline veoma talentovanog tinejdžera koji ne želi ići stopama svoga oca. Ali sudbina je ipak ona koja odlučuje kuda dalje... [img]http://images.rottentomatoes.com/images/movie/gallery/1185558/photo_01_hires.jpg[/img] Suncokret (na kineskom 向日葵; i na pinyin: Xià ng rì kúi) je četvrti film režisera Zhang Yang-a i rađen je u ko-produkciji sa Ming Productions, Beijing Film Studio i Hong KongÅ¡kim predstavniÅ¡tvom holandske kompanije Fortissimo Films. [img]http://images.rottentomatoes.com/images/movie/gallery/1185558/photo_03_hires.jpg[/img] Film je podeljen u tri glavna dela, prvi se deÅ¡ava 1976 godine sa povratkom umetnika Gengniana svojoj porodici ; drugi deo se deÅ¡ava 1987 kada Xiangyang (to bi trebalo značiti "suncokret" koliko sam ja razumeo) ima 19 godina i treći deo se deÅ¡ava 1999 godine, kada je dečaku već 30 godina. [img]http://images.rottentomatoes.com/images/movie/gallery/1185558/photo_05_hires.jpg[/img] Glavne zvezde filma su Sun Haiying i Joan Chen kao muž i žena, a uloge sina u raznim godiÅ¡tima (fiml se bavi razdobljem od 30 godina) tumače glumci Zhang Fan, Gao Ge i Wang Haidi. Veoma lepo umetničko delo koje posebnu pažnju posvećuje ljubavi i nemogućnosti da se ona jasno izrazi u datim trenucima. Moja je ocena 7/10 i rado preporučujem ovaj film svim generacijama.[/i][/color][/b]
½
[font=Century Gothic][color=darkgreen]MOVIE REVIEW: The Diving Bell and the Butterfly[/color][/font] [font=Century Gothic][color=#006400][/color][/font] [font=Century Gothic][color=#006400][/color][/font] [font=Century Gothic][color=#006400]SUMMARY: A beautifully scripted AND directed film filled with vivid cinematography and a sincere and quite sad story.[/color][/font] [font=Century Gothic][color=#006400][/color][/font] [font=Century Gothic][color=#006400][/color][/font] [center][img]http://www.azcentral.com/ent/movies/showtimes/images/61951/61951_aa.jpg[/img][/center] [center] [/center] [center] [/center] [left][font=Century Gothic][color=darkgreen]NOTABLY STARRING: Mathieu Amalric, Emmanuelle Seigner, Marie-Josee Croze, Anne Consigny, and more than anything, Max Von Sydow. [/color][/font][/left] [left][font=Century Gothic][color=#006400][/color][/font] [/left] [left][font=Century Gothic][color=#006400][/color][/font] [/left] [left][font=Century Gothic][color=#006400]Directed by Julian Shnabel, "Diving Bell..." is the true story of Elle France editor Jean-Domninique Bauby (brilliantly played by Almaric) and his battle after suffering a severe stroke that paralyzed his entire body and left him in "locked-in" syndrome. All he could move was his left eyelid. Through a developed language system that he worked on with therapist Henriette (Croze), he decided to write a memoir of his experience. This was his story.[/color][/font][/left] [left][font=Century Gothic][color=#006400][/color][/font] [/left] [left][font=Century Gothic][color=#006400][/color][/font] [/left] [left][font=Century Gothic][color=#006400]Bauby, better known by his friends as "Jean-Do" lived an extremely lavish life. He married, yes, and had three children. However, he also had a mistress named Ines of whom he jet-setted with, and was determined that he found his true love. His wife Celine (Seigner) was more or less just the mother of his children. His father Papinou (Von Sydow) was failing in health with his advancing years...Bauby mentions that the last time he visited his father was to help give him a shave.[/color][/font][/left] [left][font=Century Gothic][color=#006400][/color][/font] [/left] [left][font=Century Gothic][color=#006400][/color][/font] [/left] [left][font=Century Gothic][color=#006400]But that all ended.[/color][/font][/left] [left][font=Century Gothic][color=#006400][/color][/font] [/left] [left][font=Century Gothic][color=#006400][/color][/font] [/left] [left][font=Century Gothic][color=#006400]One of the most memorable and haunting scenes in the entire film is when Jean-Do is being wheeled out to the balcony and he sees himself in the reflection of the window. He doesn't recognize himself. Half of his face has sunken, and while his mind remains perfectly intact, he can't fathom how he looks. Not wanting to face his reality, Jean-Do recalls what he does have control over, his imagination and his creativity...so he transports himself to his own worlds and into his lavish past to ease the pain. [/color][/font][/left] [left][font=Century Gothic][color=#006400][/color][/font] [/left] [left][font=Century Gothic][color=#006400][/color][/font] [/left] [left][font=Century Gothic][color=#006400]With internal monologue that I'm sure was dictated to his publishing company's rep, Claude (Consigny), Bauby narrates the entire experience of being trapped inside an empty and useless shell. The humor is quite nearly out of necessity and the watcher feels his tragedies one after another as he experiences them. One moment, you want to laugh at his comments on his beautiful therapists [i]("it's not fair! it's not fair!") ,[/i] and the next, you can't help but cry as his father tries to comfort his son as they both battle with prisons they can't escape from. And all the while, Bauby finds solace and comfort in those who care most for him; his children, his wife Celine, his language therapist Henriette (who has one of the most heartbreaking scenes in the entire film), and his friends that remained through his worst; reading to him, talking with him, making sure he was as comfortable as possible. [/color][/font][/left] [left][font=Century Gothic][color=#006400][/color][/font] [/left] [left][font=Century Gothic][color=#006400][/color][/font] [/left] [left][font=Century Gothic][color=#006400]This is a beautiful beautiful film with amazing visuals and one very sad story. It is sure to invoke a roller-coaster of emotions as you experience Bauby's life, trapped inside his own body. [/color][/font][/left] [left][font=Century Gothic][color=#006400][/color][/font] [/left] [left][font=Century Gothic][color=#006400][/color][/font] [/left] [left][font=Century Gothic][color=darkred]MOVIE REVIEW: Sunflower[/color][/font][/left] [left][font=Century Gothic][color=#8b0000][/color][/font] [/left] [left][font=Century Gothic][color=#8b0000][/color][/font] [/left] [left][font=Century Gothic][color=#8b0000]SUMMARY: A brilliant character study of a Chinese patriarch family and the struggles of the young son as he tries to break from his controlling father.[/color][/font][/left] [left][font=Century Gothic][color=#8b0000][/color][/font] [/left] [left][font=Century Gothic][color=#8b0000][/color][/font] [/left] [center][img]http://img.photobucket.com/albums/v470/waveman/SentiRoti/Xiang_Ri_Kui.jpg[/img][/center] [center][font=Century Gothic][color=darkred](hopefully this image works...it's not the American cover of the film, and I find it soooooo unique)[/color][/font][/center] [center][font=Century Gothic][color=#8b0000][/color][/font] [/center] [center][font=Century Gothic][color=#8b0000][/color][/font] [/center] [left][font=Century Gothic][color=#8b0000]NOTABLY STARRING: Other than Joan Chen, you probably don't know them...and that's okay...[/color][/font][/left] [left][font=Century Gothic][color=#8b0000][/color][/font] [/left] [left][font=Century Gothic][color=#8b0000][/color][/font] [/left] [left][font=Century Gothic][color=#8b0000]After watching so many action flicks of Asian genre, this was jsut a breath of fresh air. [/color][/font][/left] [left][font=Century Gothic][color=#8b0000][/color][/font] [/left] [left][font=Century Gothic][color=#8b0000][/color][/font] [/left] [left][font=Century Gothic][color=#8b0000]Xiangyang was born destined to be an artist just like his father. But, before Xiangyang could reap the benefits of his destiny, his father was thown into a work camp until he was nine. So while destiny predicted him to be a young artist, he spent most of his childhood just being a kid...a cutup who liked to spend his days hitting little girls with his sling shot, causing his mother more headache than anything. On one of these typical days he aimed his sling shot at an unsuspecting merchant, who got a stone dealt right to his forehead. However, as he ran for home, he realized the merchant was following. His mother, out of curiosity about the commotion looks at the merchant with a sad familiarity. It's Xiangyang's father, back from the work camp.[/color][/font][/left] [left][font=Century Gothic][color=#8b0000] [/color][/font][/left] [left][font=Century Gothic][color=#8b0000][/color][/font] [/left] [left][font=Century Gothic][color=#8b0000]Refusing to accept this man as his father, Xiangyang treats this man as his mortal enemy (at 9, this is hardly a threat), but as a result, his father forces him to develop his artistic talents by drawing...day in and day out. Since his father was left debilitated after a guard stomped on his hand mercilessly mangling it, he is no longer able to draw.[/color][/font][/left] [left][font=Century Gothic][color=#8b0000] [/color][/font][/left] [left][font=Century Gothic][color=#8b0000][/color][/font] [/left] [left][font=Century Gothic][color=#8b0000]After a devastating earthquake, Xiangyang and his family are forced to live in an encampment alongside the rest of the survivors. His life is forced into a rebuilding stage, that too involves a rebuilding relationship with his father. Longing for clean clothes, Xiangyang and his father decide to bathe in a nearby creek, and clean their clothes. After a relaxing afternoon nap, Xiangyang awakens and can't find his father...tearful, he calls for him, and his father, hiding between trees, realizes that he finally has a son.[/color][/font][/left] [left][font=Century Gothic][color=#8b0000] [/color][/font][/left] [left][font=Century Gothic][color=#8b0000][/color][/font] [/left] [left][font=Century Gothic][color=#8b0000]But, as Xiangyang grows older, his father's grip only tightens. Determined that his son will provide for his family, Xiangyang's father opresses him more and more, causing Xiangyang to seek other forms of freedom; selling greeting cards at the local ice rink. There, he sees a curious ice skater with a red scarf. Immediately, he's in love. Determined to break from his family, develop his own independent self, and hopefully never need his father again. However, no matter how hard he tries to run, his father is always there, reminding him of his roots, and bound and determined to make him realize the importance of family roots.[/color][/font][/left] [left][font=Century Gothic][color=#8b0000] [/color][/font][/left] [left][font=Century Gothic][color=#8b0000][/color][/font] [/left] [left][font=Century Gothic][color=#8b0000]Although it sounds like a bit of an overdone story line, "Sunflower" is a refreshing, albeit rather disturbing character study of this very patriarchical family who relies SO much on the father figure. Xiangyang's mother is the perfect example of an obedient wife that answers only to her husband. And every now and again, you get that lump in your throat that tells you just how in-depth and well done this film is...that emotional jar that makes this film into a foreign-film classic.[/color][/font][/left] [left][font=Century Gothic][color=#8b0000] [/color][/font][/left] [left][font=Century Gothic][color=#8b0000][/color][/font] [/left] [left][font=Century Gothic][color=#8b0000]Director Yang Zhang is still a budding director, but already has not one, but two phenomenal art films in "Sunflower" and his notable 1999 film "Shower". They are both fantastic character studies that focus on developing great stories, rather than embelished and over-the-top action/special effects. "Sunflower" is a beautiful film, and one that shouldn't be missed.[/color][/font][/left] [left][font=Century Gothic][color=#8b0000][/color][/font] [/left] [left][font=Century Gothic][color=#8b0000][/color][/font] [/left] [left][font=Century Gothic][color=#8b0000]And so ends your dose of foreign films for the day. Two great recommendations though, if I do say so myself. Well worth a watch.[/color][/font][/left] [left] [/left] [left][font=Century Gothic][color=#8b0000][/color][/font] [/left] [left][font=Century Gothic][color=#8b0000]Until next time!!! [/color][/font][/left]
Brooke Hall