Sunny (Sseo-ni)
(2011)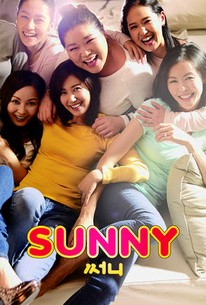 AUDIENCE SCORE
Critic Consensus: No consensus yet.
Movie Info
On her first day at her new school Na-Mi is bullied by others. Coming to her help is a group of girls. Na-Mi quickly becomes part of their group. Twenty five years later, Na-Mi is married to a successful businessman and has a beautiful daughter. Her life seems perfect from afar, but there's something lacking in her life. One day, Na-Mi bumps into high school friend Choon-Hwa in the hospital. They are ecstatic to see each other, but Na-Mi receives a phone call and has to leave. On her way out she ask Choon-Hwa if there is anything she can do for her. Choon-Hwa at first says no, but after a moment of reflection she makes a simple request to Na-Mi. Choon-Hwa asks Na-Mi to find the other members of "Sunny," so she can see them one more time ...
Critic Reviews for Sunny (Sseo-ni)
All Critics (2) | Fresh (2) | Rotten (0)
Writer-director Kang Hyeong-Cheoi has a keen grasp of what motivates teenagers, which is mostly a desire to be an individual while also being exactly like everyone else.
Poignant and filled moments of tenderness, humor and warmth.
Audience Reviews for Sunny (Sseo-ni)
½
This is a pretty damn good movie and actually pretty much unlike any Korean film I've seen so far. In that I haven't seen a movie that solely dedicated itself on teenagers and their experiences, I'd have thought that their TV dramas dealt more with that. Granted that is only part of the film, as it is also them, as adults, trying to get the group together one last time for their dying 'leader'. But it definitely handles its characters with a sweetness, warmth, and humor that most movies that try to do this same thing can't even come close to. Of course this means that the film can be overly sentimental at times, but it never degrades into melodrama. The cast is excellent, both teens AND adults, and they do a great job at sort of making you believe that they grew up into these women. I mean I still know it's obviously two different sets of actresses, but they still did an excellent job at making the transition from teen to adult feel seamless and not awkward. Of course it's also important for this group of women to feel like lifelong friends and they also do an excellent job at that. And again this applies both to the teens and to the adults. They had a friendship that I believed, for the characters themselves, would be one, and this is cliched as fuck, they would never forget. So yea I very much liked this movie, the only weakness is that it can be very sentimental at times but it's still a really good movie that treats its character with respect and heart.
Jesse Ortega
Super Reviewer
Sunny (Sseo-ni) Quotes
There are no approved quotes yet for this movie.