Super Cyclone
(2012)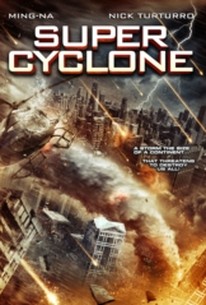 AUDIENCE SCORE
Critic Consensus: No consensus yet.
Movie Info
Ming Na,Nick Turturro, and Andy Clemence star in this disaster filler following a meteorologist and a petroleum engineer racing against time to divert a massive cyclone from a disaster path throughout the entire eastern seaboard. ~ Tracie Cooper, Rovi
Critic Reviews for Super Cyclone
There are no critic reviews yet for Super Cyclone. Keep checking Rotten Tomatoes for updates!
Audience Reviews for Super Cyclone
This may be the worst weather-based film ever made. I'm not even going to dignify this movie with a full review, because it definitely doesn't deserve one. Bottom line, the only reason anyone should ever watch Super Cyclone is if you're doing it for the drinking game of taking a shot every time someone says the phrase "Super Cyclone". You may be thinking, there's no way that they can say such a ridiculous phrase that many times; but I assure you, try iit and you'll end up thinking you're in a cyclone half way through.
Dov Doviak
I can't believe I wasted a whole hour and thirty minutes of my life on this fuckery. I can't even begin to list all the problems with this movie. The horrible over acting, the lack of acting, the graphics, the plot, if they said "SUPER CYCLONE" one more time....it was just sad. I would not under any circumstances tell anyone to watch this movie. Not even pot heads...it will kill your high. Seriously. Do Not Watch.
Saku Nelaj
Absolutely the worst film I believe I have ever seen. I did not thin you could mess up a disaster movie...I was wrong. The effects were terrible and the acting even worse. They actually drew in the rain and the next scene the ground was bone dry. Unbelievably terrible and I like B movies except this was not a movie...
G c
Super Cyclone Quotes
There are no approved quotes yet for this movie.