Superfights
(1995)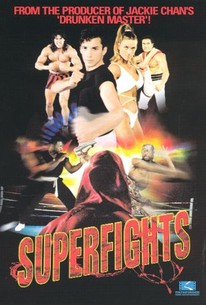 AUDIENCE SCORE
Critic Consensus: No consensus yet.
Superfights Videos
Superfights Photos
Movie Info
In this martial arts actioner, a fight promoter hears the story of how a warehouse worker uses his extraordinary kickboxing skills to take down a robber and decides to convince the worker to become a professional fighter.
Rating:
PG-13
Genre:
Directed By:
On DVD:
Runtime:
Studio:
Unknown
Cast
Critic Reviews for Superfights
There are no critic reviews yet for Superfights. Keep checking Rotten Tomatoes for updates!
Audience Reviews for Superfights
½
I checked this flick out for the fight choreography and needless to say, I wasn't disappointed! It was a U.S./H.K. collaboration created by Tony Leung Siu-Hung who was known for choreographing the movie 'Magic Crystal' and having a guest appearance in the movie Ip Man as one of the masters. It's a low-budget film, but the fight scenes will keep you on the edge of your seat...the final battle between Brandon Gaines and Keith Vitali is reminiscent of the final fight between Jackie Chan and Ken Lo from Legend of Drunken Master. I recommend this to anyone who loves H.K. style choreography.
Reno R.
"Don't take the pills, Jack. They aren't vitamins." For those who enjoyed the No Retreat, No Surrender and King of the Kickboxers movies, 'Superfights' is another offering from Ng See Yuen's Seasonal Film company. Yes, the same Ng See Yuen who launched Jackie Chan to stardom with 'Snake in Eagle's Shadow' and changed the face of Hollywood stunt choreography with 'the Matrix.' Directed by Tony Leung (who also helmed the Gary Daniels comedy classic 'Bloodmoon'), this movie introduces us to John Jacob Cody (according to his mother), a kid (or 30 year old man-child, I couldn't tell) who is obsessed with Superfights,' a PPV company that is a cross between pro-wrestling, UFC, and kickboxing. When Jack saves a girl from a bunch of thugs, he becomes an overnight celebrity and is contracted by the Superfights owner (played by Keith Vitali) to be his latest warrior. Little does "All American" Jack Cody know that Superfights is actually a cover for all sorts of illegal activities, including roid-rage, gambling, drugs, and murder. He must stop it before it take him down as well. Despite how serious the plot sounds (murder, drugs, etc), this movie is as far from serious as you'll get. I had the same problem with 'Bloodmoon,' which was about a serial killer hunted by two cops- except they forgot to mention the serial killer was a kickboxer who dressed up like the Phantom of the opera and the cops did magic tricks. Like all of Seasonal's USA DTV offerings during the late 80s/early 90s, Superfights is a combination of ridiculous acting and set pieces, mixed with the most top notch fight choreography around. If you thought Jason and Scott were bad in the NRNS films, wait til you meet Jack. "Jean Claude Van Dunce" likes to jump up in the air and shout "Woohoo!" at a moments notice, and shout shit at random like "Superfights! YEAH!" and "Bullshit! I'm a great fighter!" There is a truly spectacular homage to Rocky with Jack running through the streets of Philly as random people cheer him on; he runs up the steps, jumps in the air, goes "Yeah!" and freeze frames! Amazing shiznit. Jack is a strange character, because in some scenes, he seems to be more mentally challenged than Jeff Towne, and in others, he's a cocky asshole, saying stuff like "It's time to capitalize on my 15 minutes of fame." Chuck Jeffreys, the Eddie Murphy look-and-sound alike from 'Bloodmoon,' is here as Superfighter Dark Cloud. He's dressed up in this horrendous rastifarrian/Miss Cleo outfit complete with Hammer parachute pants and likes to throw around his money like a Lil Wayne at a titty bar. Jeffreys truly does the best Eddie Murphy I've ever seen, and I even forgot that he wasn't Eddie Murphy in a few scenes. Seriously though, I think he's Murphy's stunt double in real life. A really great aspect of this movie is the sexual tension between Jack and his oh-so hot trainer Angel (some bodybuilder chick named Kelly Gallant). This chick was spectacular, because she delivered her lines in this totally unnatural, oversexed way akin to Gina Bellman in Dolph's 'Silent Trigger.' I totally wanna be paddled by a nude baby-oiled her all night long. Despite her throwing herself at him and wanting a trainer/FWB type deal, Jack just never really seems to want to get together with the chick, and he pusses out, which makes him I guess gay as well as borderline retarded. The veiled sexual dialog between the two is great: "this is my favorite vital sign" "that took 30 seconds... Longer than most." 'Superfights' is a dumb, silly movie, make no mistake. But there's much to love- from the most gloriously stupid theme song of all time ("Superfighter! Kick his ass!"); to the old chinese sage dude in a wig who teaches Jack Tai Chi to beat the baddies (he likes to break people's arms and say "Buwshit!"), to the idea that the entire town's news force would show up @ Jack's doorstep mere hours after saving a chick from robbery for no real reason. Wrestling fans will also want to see Rob Van Dam (who is also in 'Bloodmoon,' which has a lot of characters from 'Superfights' in it) do his thang in a couple of brief scenes. The fact that Jack trains with blow up sex dolls in the factory where he works as a box boy; the Vince McMahon-ish promotor who has fighters so roided up he has to take them down with tranquilzer guns. All amazing cinematic moments. There are also a myriad of instantly classic quotes- from Jack's retarded shouts to my personal fav: "Don't take the pills, Jack, they aren't vitamins." Another great scene is when all the superfighters are in the gym together pumping their guns and shit and getting all roided out. Just a great, bad movie. I think if you want to laugh your ass off for 90 minutes, you can't go wrong with 'Superfights.' I also recommend the No Retreat No Surrender sequels (2 and 3 especially) and King of the Kickboxers 2: American Shaolin (which has the greatest Shaolin monks doing air guitar scene in history). They all have really great fights, and equally atrocious, but laughable, stories and leading men. As an aside, I was also flabbergasted that they gave this a commentary with the producer and Jeffreys. It was very informative and funny, but it just makes me disappointed they can't do this shit for, say, 'Kickboxer 4' or 'American Ninja 2.'
Jason Anderson
Discussion Forum
Discuss Superfights on our Movie forum!
News & Features