Superman and the Mole Men
(1951)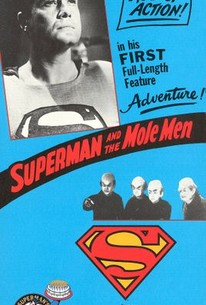 AUDIENCE SCORE
Critic Consensus: No consensus yet.
Superman and the Mole Men Photos
Movie Info
This adventure was the pilot for the original Adventures of Superman television series. The film follows Clark Kent and Lois Lane as they travel to a small town to write a story on the world's deepest oil well. When they stumble across the titular creatures, Superman must save the day.
Critic Reviews for Superman and the Mole Men
All Critics (2) | Fresh (0) | Rotten (2)
Directed with a certain crudity but retaining an innocence that worked out nicely.
Even at under an hour, this children's fantasy is sluggishly paced by today's standards...but it does have its charms and a relevant social message at its core.

Audience Reviews for Superman and the Mole Men
½
Like many TV pilots-turned movies, this one is fairly bland and under toned. The plot doesn't reflect any of the characters, it's just another day for Superman (who doesn't have much to do in the film). It's cheap, short, and ultimately it will be followed by more memorable stories.
Wes Shad
It's considered by many to be the first legitimate Superhero film but it's really not that much better than the many TV serials that came before it. Hammy, campy, with lackluster acting, this one misses. Day 1: Superman and the Mole Men Seeing as it began the entire superhero comic book movement, it isn't surprising that the first theatrical released superhero film was with the character of Superman. Now this is far from his first on screen dà (C)but, as he appeared in multiple serials beforehand, but it is the fist time a super powered hero was brought to the large cinemas and featured as a major release. As with everything else, the first outing rarely gets it right. Superman and the Mole Men tells a single of many presumed Superman's adventures. It only mentions briefly a summery about the origins of Superman through narration. However the main story depicts. Clark Kent and Lois Lane traveling to a small town, barely over a thousand, to cover a story on the deepest hole ever dug by a drill, a pit dug nearly six miles under the earths crust. Lois is angry at the assignment and thinks it beneath her. But that changes when it is revealed that an underground race of "mole men" have emerged from the hole drilled in the ground. The film is campy and goofy without a doubt. It is very much the predecessor of the all to similar Superman TV series that followed it. Lois Lane played by Phyliss Coates is well portrayed in her traditional snappy, fashion. George Reeves plays a very bland Clark Kent and Superman. He couldn't be more wooden if he was carved out of driftwood. Yet the film does give an interesting villain in the character of Luke Benson. Rather than making a horror-like story will Superman fighting a group of underground demons, rather it becomes a story about tolerance, drawing many parallels to the Cold War Red Scare. The Mole Men are innocent creatures that people accuse of murders and hunted down. Superman must save them. By no means can any of this be taken seriously. It suffers from the overall hamyness, cheap effects, and overly long chase scenes. Yet if any credit can be given to it it's that it help to further solidify Superman's popularity back in the 50's leading to the eventual Richard Donner/ Christopher Reeve films which perfectly capture the character.
Todd Anderson
When the world's deepest oil well unleashes a race of peaceful Mole Men, Superman must save the creatures from angry locals who see them as a threat. After the two serials this was the first regular feature film to showcase the Man of Steel. It was actually a theatrically released pilot for what would become the successful TV series "The Adventures of Superman" and would later be aired as a two-parter on the small screen. This certainly feels more like a TV episode than a movie, with a lack of action throughout. Superman only takes flight once and, just as with the serials, this sequence is animated. A dull chase scene is drawn out to bum numbing lengths, presumably just to fill the running time for a theatrical release. As Clark Kent and Lois Lane, Reeves and Coates are a much blander pairing than Kirk Alyn and Noel Neill, the charismatic stars of the earlier serials. Reeves is more believable when playing Superman but as Kent he's not very convincing, looking just like a jock wearing glasses. He lacks the bumbling charm that Alyn had in spades. The story goes that Alyn demanded too much money and so the role was given to Reeves. Coates makes for a rather abrasive and unlikable Lois Lane. She would actually go on to be replaced by the more energetic Neill in the second season of the TV show. The Mole Men themselves are just a couple of little people wearing cheesy bald caps. They don't speak and spend most of the movie being hunted by redneck stereotypes. Compared to the serial this has a much darker turn with Superman and the Mole Men actually being shot at and a generally violent atmosphere throughout. It all ends with our hero giving a lecture on tolerance for those who appear different to us. Tolerance is always a good attribute to possess, especially if you plan on making it through this turkey.
The Movie Waffler
Super Reviewer
Superman and the Mole Men Quotes
There are no approved quotes yet for this movie.
Discussion Forum
Discuss Superman and the Mole Men on our Movie forum!