Superman: Doomsday
(2007)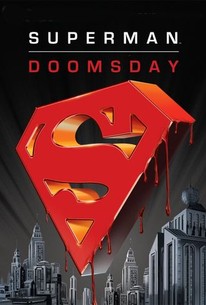 Superman: Doomsday Videos
Superman: Doomsday Photos
Movie Info
Inspired by the best-selling DC comic The Death of Superman, the animated feature Superman: Doomsday finds the Man of Steel locked in mortal combat with an intergalactic serial killer named Doomsday. Never before have two rivals of such equal footing squared off in a duel to the death that could determine the fate of an entire planet. Will Superman summon the strength needed to save Metropolis by making the ultimate sacrifice, or could it be that the denizens of this bustling city are about to witness the demise of the greatest protector they ever had?
Rating:
PG-13
Genre:
, ,
Directed By:
Written By:
In Theaters:
On DVD:
Runtime:
Studio:
Warner Home Video
Cast
Critic Reviews for Superman: Doomsday
Audience Reviews for Superman: Doomsday
The big blue Boy Scout has his hands full with Lois Lane angling for commitment and some alien monster out simply to annihilate life. The strength of this story has always been watching Supes mix it up with someone worthy of his meddle and there's that here in spades. Whoever decided over at Warner Brothers or at DC Comics that its cool if Super Aliens battle it out in the middle of a city where thousands could be killed was still working when they made this, so there's that to look forward to. Why that's never addressed in these undercuts the old believability quotient. I'm just saying.
Kevin M. Williams
Super Reviewer
It's depressing to see all these traditional-outdated critics tackle this film arguing that it's "too dark and violent" for the Superhero cartoon genre, because only Batman's allowed to be taken seriously, am I right? Not. Superman Doomsday might "try too hard" to achieve levels of unnecessary violence at times but to say that this was a failure is far from the truth. The script could be tighter but the overall story, animation and iconic feel of the plot already wins me over. I love how it really delves into Lex as a sophisticated, complex,...nut case. His relationship with Superman and his self-destructive nature in attempts to replace it. It also briefly dabbles in what justice means and although handled in an elementary fashion (cat in tree with old lady) is an important theme to the hero. A man with unlimited power. Great ideas, just, a little weak on the execution.
Drake Tsui
Super Reviewer
I really thought this was going to be the "Death of Superman" cartoon movie, just like the comic that came out in the 90's. While the first 30 minutes it is, it takes it into a different direction and changes the story. The "Doomsday" comic was the only issue of Superman I ever bought, and it was a great read. Never been real high on Superman, so I loved seeing him all bloody and beaten. This is a very solid cartoon movie. The animation is fantastic, and the story is equally good for children and adults. I would LOVE to see a live action battle between Superman and Doomsday. I wish there was more Doomsday in this, instead he's more of an after thought when it is all over. Nice and short at 75 minutes, but pretty entertaining.
Everett Johnson
Super Reviewer
Discussion Forum
Discuss Superman: Doomsday on our Movie forum!
News & Features