Superstar: The Karen Carpenter Story
(1988)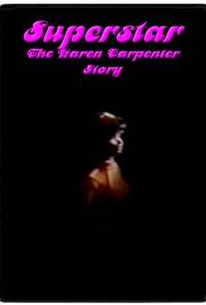 AUDIENCE SCORE
Critic Consensus: No consensus yet.
Movie Info
DON'T confuse this experimental effort with the made-for-TV biography of singer Karen Carpenter. Cowritten, coproduced and directed by avant-garde filmmaker Todd Haynes, Superstar is "acted out" by Barbie and Ken dolls, dressed up to look like the singing Carpenter family (their voices are supplied by Gwen Kraus and Bruce Tuthill). As the Carpenters rise to musical fame, Haynes cuts away to snippets of popular 1970s TV shows and news footage of the bombing of Cambodia. When Karen begins suffering from the anorexia nervosa that would ultimately kill her, her Barbie Doll counterpart has her hair removed and her face painted a jaundiced yellow. Meanwhile, Karen's brother Richard, depicted as a callous cretin, ignores his sister's plight, rambling on about honoring the family's showbiz contracts. As if this isn't provocative enough, Haynes includes a scene wherein a naked Barbie is on the receiving end of an S&M spanking. We're not sure what this all means, but we do know that Superstar: The Karen Carpenter Story enjoyed a brief life as a campus midnight-movie attraction.
Cast
Critic Reviews for Superstar: The Karen Carpenter Story
Audience Reviews for Superstar: The Karen Carpenter Story
Movng story about the rise to fame for the Carpenter siblings.
Candy Rose
Super Reviewer
½
2001 is not the original release date for this movie, it's somewhere around 1988, but since it's an underground film, it's a bit uncertain, I know. This movie really creeped me out. Yes, it does use dolls to dramatize the life of Karen Carpenter, but it also utilizes stock footage from other places too, and it's more about anorexia than her life. It's an interesting movie, and anyone in film school right now should really check it out.
½
really disturbing, especially for those of us who (vaguely) remember. the carpenters were huge; in fact they were the #1 selling american music act of the 1970's. karen had a wonderful voice. they were a white bread fantasy of middle class suburbia and a cautionary tale of what can happen when everything is a little too...perfect. this film was notoriously withdrawn from distribution after a lawsuit against director todd haynes by karen's brother richard. this is NOT a documentary. it can be seen here in decent quality: http://video.google.com/videoplay?docid=622130510713940545#
Stella Dallas
Super Reviewer
Superstar: The Karen Carpenter Story Quotes
There are no approved quotes yet for this movie.