Superstición
(1982)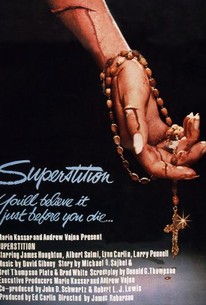 AUDIENCE SCORE
Critic Consensus: No consensus yet.
Movie Info
In this thriller a foolish minister disregards the warnings of his new parishioners and moves his family into a home that sits upon property once owned by a 300-year-old witch who is anxious to get revenge against those directly or indirectly involved with her violent death.
Critic Reviews for Superstición
All Critics (2) | Fresh (1) | Rotten (1)
If you're in the mood for a low-budget 80s curio with pretty good practical effects and inventive death scenes, Superstition is worth sitting a spell.
45 seconds of half-decent gore mired in a movie so lifeless it's almost scary. Almost.

Audience Reviews for Superstición
Surprisingly effecting early-80's low-budget horror flick. With creative death scenes and very well paced, it is quite good for its era and /budget. The Goblin-esque score helps quite a bit. Worth a peak.
Paul Cardullo
My initial review: "Um yeah, so there's a witch, there's some flashbacks, there's death by largely unseen parties, it's all kinda boring except when someone is dying. It's also interesting to notice that no matter HOW MANY fucking people die in this old house, the local church seems hellbent on making a family live there, it's kinda ridiculous. Pass, unless you're some sort of 80's horror completist." Having given it a second look without realizing that I'd seen it before I'm bumping that original score up a bit, as it does have some creepy moments, perhaps I was just too harsh on the initial viewing. Rental?
Bill Bryant
½
THIS IS "THE ONE WITH . . . " the witch who is drowned in a lake with a GIGANTIC WOODEN CROSS and comes back to life. Its frightening and stuff but the make-up effects TOTALLY wreck-up the movie: the phony head EXPLODING in the microwave-oven really FOULS-UP the movie (CRAP-LEVEL production values). THIS ALSO is one of the most "I can't remember the title but have seen . . ." movies around.
Gordon Terry
Superstición Quotes
There are no approved quotes yet for this movie.
Discussion Forum
Discuss Superstición on our Movie forum!