Support Your Local Gunfighter
(1971)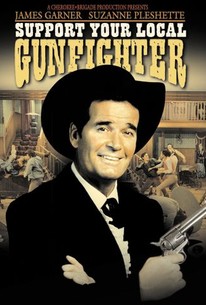 Support Your Local Gunfighter Photos
Movie Info
This Western action/comedy is told in the same tongue-in-cheek manner as its predecessor, Support Your Local Sheriff. Goldie (Marie Windsor), a madam, is a formidable woman, and Latigo Smith (James Garner) knows perfectly well that his disreputable ways will be trimmed considerably should she succeed in marrying him. Instead, he escapes from her and winds up in the town of Purgatory. The town's inhabitants have been expecting the arrival of Swifty Morgan (Chuck Connors), the famous gunfighter. All things being equal, Latigo is happy to be mistaken for Morgan's sidekick, while Jug May (Jack Elam) impersonates Morgan himself.
Critic Reviews for Support Your Local Gunfighter
All Critics (12) | Top Critics (1) | Fresh (8) | Rotten (4)
This follow-up has trouble getting out of the gate but eventually hits its stride.

This genial Western comedy is a disappointing successor, not a sequel, to Support Your Local Sheriff.

Ozus' World Movie Reviews
Still makes me laugh. It's Garner's Maverick transplanted.

Audience Reviews for Support Your Local Gunfighter
½
Very funny classic western.. I love James Garner. With dialogue like this, how can you lose? Jug: I'm supposed to pretend I'm Swifty Morgan? Goodbye! Latigo: They're willing to pay. Jug: How much? Latigo: One thousand dollars. We'll split it fifty-fifty. That means four hundred for you. Jug: That seems fair. But I think that... Latigo: No, no you don't. That's part of the deal. I do the thinking, you stand around and look tough.
Mike Bierman
This is the second of James Garner's "Support Your Local" western series. This one is the funnier of the two. This movie has a story and it is a comedy Western and not a spoof of the Western Movie. The character is again a version of the Maverick character he played in the Maverick TV series. I first saw this movie with my cousin at the old movie theater in downtown McAlester, Oklahoma. We laughed so hard our sides hurt. Then we laughed the entire walk back to his house. The best lines all had the word "ass" in them. Of course they were talking about donkeys. Suzanne Pleshette was great in this movie as the wild daughter. Then at the end Jack Elam claims to go on to be a big star in Italian Westerns talking to the audience. It's set in Purgatory, Colorado which is a real town in Colorado. Of course this is a fictional version and not the real Purgatory.
Donald White
½
Good enough to have been a Disney film from Uncle Walt. Exceptional cast, but focus on Ellen Corby, Suzanne, and Jack. We all know and love Jack, right?
Christopher Bergan
Support Your Local Gunfighter Quotes
There are no approved quotes yet for this movie.
Discussion Forum
Discuss Support Your Local Gunfighter on our Movie forum!