Surviving Progress
(2012)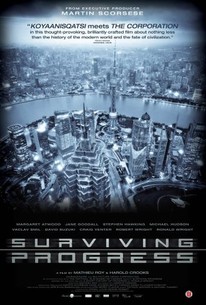 Surviving Progress Videos
Surviving Progress Photos
Movie Info
Humanity's ascent is often measured by the speed of progress. But what if progress is actually spiraling us downwards, towards collapse? Ronald Wright, whose best-seller, A Short History Of Progress inspired Surviving Progress, shows how past civilizations were destroyed by "progress traps" - alluring technologies and belief systems that serve immediate needs, but ransom the future. As pressure on the world's resources accelerates and financial elites bankrupt nations, can our globally-entwined civilization escape a final, catastrophic progress trap? With potent images and illuminating insights from thinkers who have probed our genes, our brains, and our social behaviour, this requiem to progress-as-usual also poses a challenge: to prove that making apes smarter isn't an evolutionary dead-end. -- (C) First Run
News & Interviews for Surviving Progress
Critic Reviews for Surviving Progress
Audience Reviews for Surviving Progress
½
This film is a mixed bag, part documentary and part diatribe and part social critique with real bite. There are three or four interview subjects who deliver some incisive commentary on history and contemporary civilization. But there's a kind of redundant quality and a self-important air to much of what remains. The production values are very good, with a few especially powerful scenes that make a point with that "picture is worth a thousand words" effect. There are also some questionable claims here and there, such as the statement that it wasn't until around 1980 that humans started squandering "natural capital" instead of just using the "interest". One of the key motivations for striking out into the New World was the search for resources after European power nations had leveled most of the continent's forests and overfished to the point of exhausting fish stocks, etc. So someone doesn't know their history. But anyway, there's a thought-provoking quality to enough of this film to recommend it.
TR Jahns
A very good reminder of the problem we're all part of but are unwilling to collaborate in because of our collective fear Nevertheless it's a very good documentary, although the issues being spoken about are no longer revealing. What the World needs NOW are pragmatic solutions that can be applied to respond to the planet's and Human Race demands, not just well structured phrases of what should be done but not [how] it should be done.
Dr. AlphonSeuss
Another documentary in the spirit of "An Inconvenient Truth" & "Collapse" that is very good and giving us very bad news.
Gordon Briggs
Surviving Progress Quotes
There are no approved quotes yet for this movie.
Discussion Forum
Discuss Surviving Progress on our Movie forum!