Suspicious River
(2000)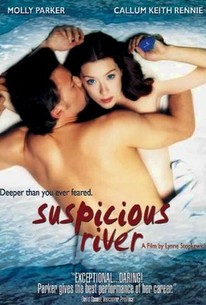 Movie Info
Leila Murray is a motel receptionist in a small Canadian town that is named after a muddy and fast-flowing creek: Suspicious River. Everything and everyone is waiting for a terrible and cold winter that will keep even the most dauntless indoors. But Leila spends her time wandering around in a flimsy dress as if she is challenging the cold, even if it does give her pneumonia. Leila's service to her quests goes further than checking in, for the price of a room, she offers herself too. Her lethargic husband has no idea; she hides the money she earns. She is saving it up, but she doesn't know what for. Until one day the attractive and helpful Gary stops at the motel. Leila is instantly infatuated with him, despite his dominant character. When he suggests they leave together, Leila thinks she has found a way out of her aimless life and will be able to chase after dreams she might not even cherish.
Rating:
R (for strong sexual content including sexual violence, and language)
Genre:
Directed By:
In Theaters:
On DVD:
Runtime:
Studio:
Motion International
Critic Reviews for Suspicious River
Audience Reviews for Suspicious River
At a roadside motel, Leila Murray(Molly Parker), a hotel receptionist, provides sexual services for guests, stashing the money in her shoe before she begins. While all of this is going on, her husband Rick(Joel Bissonnette) remains home unemployed and quite blissfully unaware. And all goes well until Gary Jensen(Callum Keith Rennie) punches her before forcing her to the floor. Afterwords, he apologizes for his rough actions. For the record, Leila's only friend seems to be the little girl(Mary Kate Welsh) down the lane who she talks with when sitting on a dock at the river while enjoying a cigarette. With Molly Parker's luminating and captivating presence raising it above the purely mundane, "Suspicious River" otherwise is not that different from many other cautionary tales, with its good(pregnant) girl/bad girl dichotomy amongst the motel receptionists.(In fact, "Stargate SG1" fans might find this movie the most disturbing.) As much as the movie aims for a psychosexual reading, I think it comes down to money more than anything else for Leila who is trapped by inaction. Otherwise, there is an 11th hour plot twist that while sort of making sense and tying everything together, is also something of a cheat.
Suspicious River (Lynne Stopkewich, 2000) There's something about this movie that's just not right. That is a statement that may not make sense, at least not coming from me. After all, the last time Stopkewich and Parker teamed up, they made Kissed, the 1996 film based on Barbara Gowdy's short story "We So Seldom Look on Love", in turn based on the story (and trial) of necrophile Karen Greenlee. And Kissed has been on my list of the hundred best movies ever made for well over a decade now. Given that, what variable changed to make this movie... well, not Kissed? The obvious, if possibly facile, answer is the source material. I will note right up front that I have not read the Laura Kasischke novel upon which this movie is based, and so everything I'm about to say here is pure, unadulterated speculation based on the past performances of the appropriate parties. But there's a men-are-evil streak that runs a mile wide through this movie. It doesn't appear in Kissed; while the male lead there is something of a heel, he's at least a well-meaning heel, who tries to figure out ways to make himself more attractive to Parker's necrophile because he has a genuine fondness for her (rather than just a fascination for her particular kink). On the other hand, and I should probably put SPOILER here just in case, there's not a single male character in Suspicious River who doesn't deserve to be removed from the gene pool immediately, while the movie's women, what few of them there are (the more to make room for disgusting, nasty men, of course), are all saints or angels, driven to the extremes they go to because they are forced to live in the male-dominated world. Which may sound like exaggeration. Trust me, it isn't. Leila (Parker) is a front desk clerk at a motel in the backwoods town of Suspicious River. The area is economically depressed and Leila's husband is a good-for-nothing layabout, so offered the choice at one point, Leila takes up prostitution, servicing hotel customers who want a little something more than the continental breakfast with their rooms. Initially, this is presented in a detached, almost whimsical fashion (there's a great cameo by the late, great Don Davis as one of her early clients), but all that changes when she's approached by, and beds, Gary Jensen (Memento's Callum Keith Rennie), who turns out to be a local and wants to keep seeing her. (If you've seen the film, did it cross your mind as well that in a town this small, how did she not know this guy already?) After one of her dates goes bad, instead of turning to her husband, Leila finds herself calling Gary, and soon enough, the wheels are set in motion for the tragedy we know is going to occur, for Gary, too, is married. There's also a subplot with a little girl (30 Days of Night: Dark Days' Katie Keating) who lives in a house close to the motel who idolizes Leila, but that subplot, and the deeper meaning behind it, kind of get short shrift in this screenplay. Despite my ranting and raving in the opening paragraph, I don't want to imply that you shouldn't see this film. If for no other reason, you should see it because Parker's performance, as all of her performances I've seen to date, is powerful and lovely. I grant you, from what I have read of the novel underlying this film, had her character been as complex as Leila-the-novel-character was, she might have stepped into Oscar territory with it, but what we get is about what one would expect from an actress of Parker's estimable caliber. More surprising is the turn from Rennie, who inhabits his scumbag with an enthusiasm that's kind of disturbing, really. Stopkewich once again teams up with DP Gregory Middleton (Slither), who does really, really good work in the kind of outdoors-woodsy-claustrophobic settings Stopkewich uses for her pictures, and once again he does a fantastic job of making this all look as bleak and barren as it should be. It could be much more than it is, but what's here is worth your time, at least. ***
Robert Beveridge
½
Barely watchable, but compellng, there is something relatable in the lead's spiral into complete degradation, however annoyingly laconic it may be. Most of the time the movie seems ridiculous cus you just want to shake her and say "get over it geez!" but then after a while despite the self indulgent moping, the point of it kinda sinks in and I started to believe her. I didn't feel like it was a total waste if time but I certainly coulda found better use for it
Mariya Zhev Welker
Suspicious River Quotes
There are no approved quotes yet for this movie.