Suzhou River
(2000)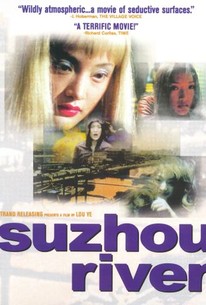 Movie Info
Recalling both Vertigo (1958) and Chungking Express (1994), Chinese director Lou Ye spins this riveting tale of obsession and love. The film opens with shots of the Suzhou River, which is clogged with the detritus and pollution of a rapidly expanding Shanghai. Narrated by an unseen freelance videographer, the film focuses on motorcycle courier Mardar (Jia Hongsheng), who specializes in black marketeering and is asked by a shady alcohol smuggler to shuttle his young attractive daughter Moudan (Zhou Xun) to her Auntie's every day while the thug entertains his latest sexual conquest. Though at first the youth resists his precocious passenger's advances, the two soon fall for one another. In spite of this, Mardar reluctantly agrees with a group of sleazy associates to a scheme to kidnap Moudan and extract a ransom from her father. When Moudan learns of Mardar's betrayal, she runs to throw herself into the Suzhou river -- apparently to her death -- cursing Mardar and saying that she will come back as a mermaid and haunt him. A few years later, Mardar is released after a stint in prison and returns to Shanghai, where he encounters Meimei (also played by Zhou), a nightclub dancer who performs in an aquarium as a mermaid and who is dating the videographer/narrator. Haunted by his past and unnerved by her resemblance to Moudan, Mardar soon becomes obsessed with Meimei. At first, Meimei brushes off Mardar's advances, until he tells her of his sordid past. Soon, she dumps the videographer in favor of her ardent pursuer, while Moudan and Meimei fuse in Mardar's fragile psychology. This film won the top prize at the Rotterdam Film Festival.
Critic Reviews for Suzhou River
Audience Reviews for Suzhou River
One of the most important and the best films made in China in 00s, for sure. Freer and more intimate camera to the actors (characters), editing that ignores so-called the "form" and is more like a work don by a DJ playing a record on turntables - its existence symbolizes the 6th Generation Chinese directors.
Naoya Kugimiya
Lou Ye's audacious retelling of "Vertigo," thrust into the decaying heart of a modernizing China, has "stream-of-consciousness" written all over it: the literal title (and Shanghai landmark) pervades each disconnected soul and twisted memory as individuals mull over illusions of lost love. Lou's borrowing of Wong Kar-wai's improvisatory jump-cutting and Brechtian narration work well to an extent here, but it's the film's distinctive aura that makes it work: "Suzhou River", like its namesake and characters, seems to exist purely in a dream state amidst the stark neorealism of an all-too-real urban setting.
David Liu
½
[url="http://www.rottentomatoes.com/m/suzhou_river/dvd.php?select=2"][img]http://images.rottentomatoes.com/images/movie/coverv/40/187140.jpg[/img][/url]It was visually appealing, but that is all. A romance, so what am I doing watching it? I cannot remember why I bought it in the first place. I am sure it was recommended to me. But, oh well.
M Sarki
Suzhou River Quotes
There are no approved quotes yet for this movie.
Discussion Forum
Discuss Suzhou River on our Movie forum!