Sweet Liberty
(1986)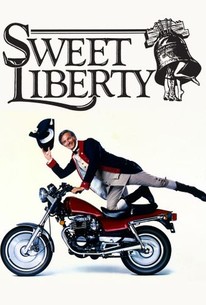 Movie Info
Alan Alda wrote, directed, and starred in this satirical film about the corruption of the film industry's approach to history. Alda plays Michael Burgess, a college professor who has written a historical novel about the American Revolution. The book has been turned into a script, and a Hollywood film crew descends on his North Carolina hometown to make the movie. Predictably, the director and actors make a mess of his concept, and Burgess becomes frustrated as the town is turned upside down. Desperately, he tries to salvage his concept with some last-minute script changes. To make things more complicated, Burgess falls in love with the glamorous female lead in the film, Faith Healy (Michelle Pfeiffer). Meanwhile, his long-time girlfriend, Gretchen (Lise Hilboldt) is pressuring him to get married. The film's male star, Elliott James (Michael Caine), finally shows up in town and becomes Burgess's rival for Faith's affections. Silent film star Lillian Gish appears as Burgess's smother.
Critic Reviews for Sweet Liberty
Audience Reviews for Sweet Liberty
Charming film. Feather light, and shallow as hell, but its' sunny disposition makes it hard to resist Alda stars and directs this movie about the problems a professor / writer faces when his beloved book about a woman living during the Revolutionary War, is transformed into a movie. As the movie company takes over his small New England town at the start of summer, Alda soon realizes the cruel and sometimes silly compromises he is forced to make to appease the filmmakers. Wonderful supporting cast headed by a luminous Michelle Pfieffer, that Alda falls for as the embodiment of his wartime heroine, but soon realizes she also is a facade Bob Hoskins brings high energy as the Hollywood scribe who Alda fights with over every word and scene change. And old pro Michael Caine, as a womanizing cocky lead actor, could of been a cliche, but he brings delight and nuance to the role. The end of the movie is bittersweet. The summer is over and the film company is packing up and leaving the small town, and we, and Alda soon realize, despite all the grief and misadventure, we will miss them. For me, that's always the sign of an enjoyable movie. ....
Del Taco
Pretty consistenly amusing, although pretty light too. Lillian Gish is clearly having a good time in her small role, and the last 10 minutes or so are really hilarious. Also Bob Hoskins. This movie could have used a bit of a punch-up with the script or maybe about 10 minutes trimmed from it to quicken the pace a little bit. I did enjoy myself though.
Matt Kendrick
what a cute movie with a young Michelle Pfeiffer, Michael Caine, Alan Alda, and Lillian Gish. This movie was written, directed and starring Alan Alda whom did a good job. Alda is a writer who's book is being turned into a movie with Caine and Pfeiffer. This movie shows what a Hollywood crew can do to a little town while filming...it is too crazy.
Mason Williams
Super Reviewer
Sweet Liberty Quotes
There are no approved quotes yet for this movie.
Discussion Forum
Discuss Sweet Liberty on our Movie forum!