Sweetwater
(2013)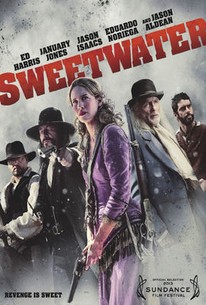 Movie Info
In the late 1800's, a beautiful former prostitute (January Jones: "Mad Men") is trying to build an honest life with her husband in the rugged plains of New Mexico. When she catches the eye of a sadistic and powerful religious leader (Jason Isaacs: Harry Potter series), her life is violently turned upside down. She embarks on a bloody course of vengeance with the assistance of a renegade sheriff (Ed Harris: Pollock, The Hours, A Beautiful Mind, Apollo 13) who has pretty violent tendencies of his own. (c) Arc
News & Interviews for Sweetwater
Critic Reviews for Sweetwater
Audience Reviews for Sweetwater
½
140102: "Horrific and Hilarious" - How this film is described by Jason Issacs in the making of featurette. Good description which I will try to follow up on. If this is the way my year is going to start then it's bound to be a great year. Sleeper hit of the last few years. Found at Walmart while searching video games with my son. Thought this might be another B Western that I regret spending money on. Nope. This one will follow me to my death. As a matter of fact, not sure this film was good for my health. Be warned there is a lot of violence and stressful moments held within. This is a dark film. It's not happy. But, it's awesome. So badly wanted to give it five stars but some may think I'm nuts. Wow, that's all I can think to say at this point. Wow. Also, there are some humorous moments held within. Sheriff Jackson's investigational commentary at Prophet Josiah's dinner table is awesome. He carries to great effect while watering Charlie, his horse. Kudos to Eduardo Noriega as Miguel and January Jones as Sarah. Great characters. Strangely, I thought this film was going to be a flop based upon the first ten minutes. Stay tuned as it gets better with time. The use of forensics by Sheriff Jackson and Barley (Kevin Wiggins) was a delightful law enforcement twist. The killings are graphic but you cheer most of them on. Pedophiles be warned, Martin goes down hardest of all. Violated at the barrel of a gun, and by Sheriff Jackson himself. Paybacks a bitch.
John Redshaw
½
Starting out like a somewhat regular Western, albeit with a really hateful and diabolic bad guy, the film goes more into pulp territory with each minute. While Ed Harris' shenanigans are fun to watch, it is January Jones who's the problem. The more her character enters the center stage, the less interesting things get. Fact is, she can't act her way out of a kartonage box. The movie gets bloodier with each minute but also less exciting because it takes a little more than someone walking around shooting people in revenge to keep the audience interested. By the time of the showdown you just don't care anymore. Wasted chances all around.
½
Westerns are not my thing. I gave this one a chance because of the cast, but I could have passed on watching this.
Heather Metzger
Sweetwater Quotes
There are no approved quotes yet for this movie.
Discussion Forum
Discuss Sweetwater on our Movie forum!