Sweetgrass
(2009)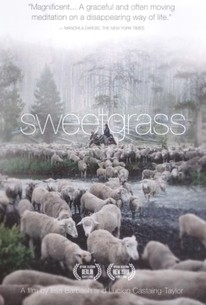 Movie Info
Filmmakers Ilisa Barbash and Lucien Castaing-Taylor continue their work capturing the stark beauty and danger of the Western landscape with this documentary. With only a soundtrack as narration, Sweetgrass tracks shepherds through Montana as they take their flocks on the long trek to the Beartooth Mountains. ~ Kimber Myers, Rovi
News & Interviews for Sweetgrass
Critic Reviews for Sweetgrass
Audience Reviews for Sweetgrass
½
Sweetgrass (Ilisa Barbash and Lucien Castaing-Taylor, 2009) Sweetgrass opens with two incredibly compelling shots that would do Béla Tarr proud. In some ways, they set the tone for the film; there's a lot of landscape, a lot of sheep, and a lot of lingering shots, either stationary or slow-pan. Barbash and Castaing-Taylor are well aware of Tarr. And if the movie played out its full length as it does in those first two shots and the twenty-five minutes that follow them, I would have put this pretty high on my list of favorite documentaries ever. Unfortunately, as you may surmise from that last sentence, it doesn't. The first half-hour is gorgeous. It keeps up with the sheep-and-landscape theme. Humans exist in the movie, of course, but at no point during the first half-hour are those humans more than background noise, either in their presence in the film or the movie's sound (which, I should warn you, my wife found incredibly annoying; I had no problems with it). It is languid, and it is breathtaking. Then the humans take center stage, and while I won't say the entire thing goes to pot, it takes a pretty sharp left turn in that direction. These are not likable folks, for the most part. Actually, I've been sitting here for ten minutes trying to come up with diplomatic ways to talk about this, and I can't. I hated these people. Every last one of them. The sheep have better personalities. Whenever the directors left the humans and cut to another slow pan shot of a huge mountain with sheep coming down it or a tree framed in moonlight or a sheep's face in close-up, I rejoiced a little. I also spent some time hoping that there would be another human-free half-hour bookending the film, but (spoiler alert!) it was not to be. Well worth watching for the first half-hour. Touch and go after that. ** 1/2
Robert Beveridge
I dream of a day when I have sheep in a yard near my house. Scratch that. I *used to* dream that. After 30 minutes of hearing sheep bleating, I could no longer watch this movie. Therefore, the dream of sheep is now dead for me.
Lisa Whelpley
½
A stunningly beautiful film documenting the life of sheepherders in Montana. The honesty of the film almost makes you want to cry.
Natalie Metzger
Sweetgrass Quotes
There are no approved quotes yet for this movie.
Discussion Forum
Discuss Sweetgrass on our Movie forum!