Swimmers
(2005)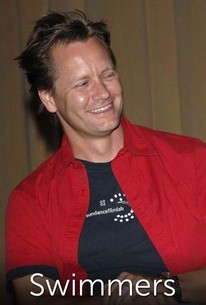 Movie Info
Coming-of-age tale focusing on a precocious 11-year-old girl who sustains an ear injury requiring surgery her fisherman father cannot afford. Tara Devon Gallagher, Cherry Jones, Robert Knott, Shawn Hatosy, Sarah Paulson. Written and directed by Doug Sadler.
Critic Reviews for Swimmers
Audience Reviews for Swimmers
In spite of some continuity issues and a story that seemed rushed and a bit disjointed, especially in the early going, I found myself drawn into this family portrait. The story is told from the viewpoint of a lonely eleven year-old girl who becomes friends with an older girl, played by Sarah Paulson. The young girl, Emma (Tara Devon Gallagher), is facing surgery on her ear to save her hearing, but her family is struggling financially and cannot afford the operation. As her family slowly disintegrates from the financial pressures, she finds refuge with Merrill, who can be very real and tender with Emma, but exhibits unstable characteristics with men closer to her own age. Not a lot of star power here (the only other name I recognized was Cherry Jones, who played Emma's mother), but the cast was quite believable as these small-town folk, just trying to live their lives of quiet desperation. I found it interesting to see Paulson in an early role.
Mark Abell
Super Reviewer
½
Fantastic and beautiful. Paulson was excellent in this role.
Leigh Ryan
Super Reviewer
[img]http://www.filmfestivaltoday.com/uploadedimages/swimmers_still1.jpg[/img] When I went to see the film, Swimmers at the Charles Theatre in Maryland, I had great hopes because I knew the director, Doug Sadler, was to be there to present teh film before the screening. I had recieved the email and jumped with joy, then called my friends to join me in the event. The film was definitely a hit. It is about a girl who has an accident leading to her not being able to swim anymore, which is basically her life. Her family needs to raise money for the operation and her dad, a crabber, purposefully sinks his boat for the insureance money, which in the end doesn't turn out as much. It's a story about all of teh things that can happen to a family, with a couple of sarcastic bumps along the way. The film was a working progress. Doug Sadler had told us that he went to teh Sundance labs, a sort of series of writing and filmmaking classes, that fund your film and help you with the writing and technical process. He had some funding from various companies giving him a step-up over other indie films, and had much trainging from the Sundacne Film Festival Group. I do think that he incorporated a lot of new styles and old styles. Now to talk technically, I can say a lot about the DP's camera usage, which I must say, was PHENOMINAL. Rodney Taylor did a great job with placing a 35mm, momster whereever he wanted a camera. He went underwater, right up in your face, on the surface of the water, and in a couple of nooks and cranies. He used the common on the tripod, but also used the much more modern steadicam for a coupleof shots where he had to twist downward to reach teh actors position. I think that the usage of film over video was excessive, just there to fit in with the big boys and add a little sense of professionality. Of course, it could be that they were pressured into using the classic Panavision or Anamorphically wide filmming (a sort of super 16:9). I think that him using film wasn't really that bad, but me being an HD video guy, that didn't strick my mind as really cool. But, like I said, the amazing camera work won over the usage of film. And I must say that, Rodney Taylor made almost every shot rule of thirds. I was VERY proud. I must say that audio isn't ever really a problem due to audio not being a really hard issue. I think that the audio was fine, I couldn't hear buzzing or hiss, or any kind of interferance. I would say that the lighting was fine. I think they took advantage of extremely white lights for dramatic effects. There was a scene where the girl, Emma was getting an operation, and the light was extremely light, giving a heavenly sort of feel. Like I said before, lighting isn't really a problem in films anymore thanks to newer color correction and lighting schemes. Now, I would say that this film definitely won it's 10/10 from me and I give a nice round of applause to Doug Sadler and all the actors. And personally I give Rodney Taylor a standing applause for his brilliant filmmaking.
Filmmaker Filmmaker
Swimmers Quotes
There are no approved quotes yet for this movie.
Discussion Forum
Discuss Swimmers on our Movie forum!