Swinging With The Finkels
(2011)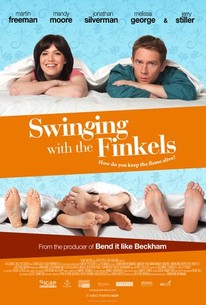 Swinging With The Finkels Videos
Swinging With The Finkels Photos
Movie Info
Having met at University, American born Ellie (Mandy Moore) and her husband Alvin (Martin Freeman) are several years into their marriage. The heady sparks of lust and fun have sadly faded and they're left with the day to day normality of their everyday life. Advised by best friends Peter (Jonathan Silverman) and Janet (Melissa George), Ellie and Alvin are desperate to 'spice things up'. Having explored various options, Ellie hits upon the brilliant idea to mix things up with another couple - to have a 'consensual affair' within the confines of the marriage. -- (C) Freestyle
Rating:
R (for sexual content and language)
Genre:
,
Directed By:
Written By:
In Theaters:
On DVD:
Runtime:
Studio:
News & Interviews for Swinging With The Finkels
Critic Reviews for Swinging With The Finkels
Audience Reviews for Swinging With The Finkels
Can't believe I sat through this, nearly gave up on it very early on. Melissa George is especially horrid in this one. Lost half a star for the scene of her with her breast pump. Character is also crude, vulgar and repellant. Mandy Moore fares a little better, but she and the husband have zero chemistry. He looks like her father in the flashbacks of them dating. And wouldn't you know it, my all time "favourite" happy ending in the movie. That one never gets old.
Nicki Marie
Super Reviewer
One line summary: Boring script, indifferent idea, lackluster acting. ----------------------- Alvin and Ellie have been married for nine years, and their intimacy has reached a plateau, a dry patch. The discuss this with friends, at first obliquely, then more openly. Their friends Janet and Jonathan have been married for about the same number of years, but also have a toddler plus a nursing child. Their situation is even more 'dried up.' Someone suggests costumes in the bedroom. The fireman's getup did not work at all. Ellie's manicure team suggest that she masturbate with a cucumber. She tries this after checking that she has sufficient time alone. She is deeply into the rhythm of it when Alvin returns with her grandparents, who have just flown in from the States. Unfortunately, he makes the mistake of opening their bedroom door without knocking and asking for permission to enter. Mr. and Mrs. Winters (the grandparents) have a wide variety of comments afterward. Ellie gets advice from her friend at work; Alvin gets advice at work whether he asks for it or not. Ellie's advisers are a gay couple, who suggest swinging. Alvin's advisers are a man from Canada and a young fellow from India who suggest Alvin take a mistress. They broach the idea with Peter and Janet, and that does not go well. The meet a number of couples through queries on the Internet. This is unsuccessful at first. After many attempts, they meet a couple who seem normal enough and are of a similar age and stage in their lives, with similar 'drying up' problems. They set a date to have a first swap. They have some drinks with suggestive names, play pictionary, where the first word involves 'vulva.' Then they set off into separate bedrooms. There are not a lot of warmth the next morning, and the new couple take off fairly quickly. Alvin and Ellie find it hard to talk to each other afterwards, which is exactly what they need to do. Peter and Janet break up. Alvin and Ellie start back-biting, which leads directly to an indefinite separation. Goodness. Do the two couples get back together? Does anyone learn anything from all this discontent? ------Scores------ Cinematography: 9/10 No particular problems. Sound: 9/10 OK. Acting: 2/10 Jonathan Silverman I could have done without completely. Melissa George was horrible. Martin Freeman and Mandy Moore were more or less competent, and delivered the script. Everyone else was between OK and lackluster. Screenplay: 2/10 Boring, not engaging, seldom funny, not inventive. The ending sucked rocks.
Ed Collins
Hey..writing this simply because of all the bad reviews.. I found it slightly charming and it had a few lol moments.. Not the greatest rom-com, but i have taste, dammit, and it if you like such a movie category, it will pass the time just fine (at 3am when you cant sleep).. Has a few pieces of nice insight as well.. Would have liked to see the supporting actress as lead, however.. Sorry, miss mandy moore :-)
jenna carlson
Swinging With The Finkels Quotes
There are no approved quotes yet for this movie.
Discussion Forum
Discuss Swinging With The Finkels on our Movie forum!