Sword in the Moon
(2003)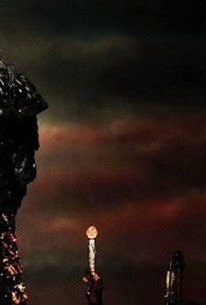 AUDIENCE SCORE
Critic Consensus: No consensus yet.
Movie Info
Directed by Kim Eui-seok, Cheongpung myeongweol (Sword in the Moon) is set in 17th century Korea, a chaotic time period in which the once Confucian society was threatened by an attempted Japanese invasion. The film is centered around an elite band of imperial guards hired to protect the old ways. Choi Ji-hwan (Choi Min-su) and Yun Gyu-yeob (Jo Jae-hyeon) make the backbone of the group, but unforeseen circumstances cause Yun to turn on Choi, the latter of which disappears from the scene after having been revealed as responsible for several murders. Yun's search results in apprehending swordswoman Shi-yeong (Kim Bo-gyeong), Choi's lover and partner in crime, who Yun tortures for information on Choi's whereabouts. Eventually, Choi and Yun meet and prepare for a final battle. The film also features Lee Jong-su, Jeon Seong-hwan, Gi Ju-bong, Yu Yeon-su, and Kang Shin-il.
Rating:
NR
Genre:
, ,
Directed By:
Written By:
In Theaters:
On DVD:
Runtime:
Studio:
White Lee Entertainment
Audience Reviews for Sword in the Moon
The female actress in the movie is beautiful. The plot is very good, with a very sad ending.. There is a lot of sword action and gore in this movie. I still recommend the movie to anyone who likes drama and asian films.
Tony Vo
I love this movie, its a favorite for me. At first it was mildly confusing as to what was going on but as the movie progressed it became clearer. Sword in the Moon has amazing swordmanship, samurai action, story and armor/clothing. To make a long story short... Yin, Chi and a lot of men were once 'brothers' or comrades and served under one master happily. But there was a war brewing, a crooked governor and assassins trying to murder the master these brothers protect. So the army was divided, half would stay including Chi and the other half lead by Yin would head north. Having lost, Yin and his comrades were forced to switch sides and serve this evil governor or be beheaded. Yin, one night escaped to the south to warn his brother Chi to leave because war was headed his way and he is forced to kill their old master. In bitter battle Yin kills his brother Chi and once comrades... The daughter of the master, Shi had hid during the war, when it was over she found Chi still breathing and nursed him back to health. They both became assassins and tried their best to kill the evil governor to avenge their master and comrades. Shi was captured by Yin and tortured until Chi came to her rescue and he in turn nursed her back to health. In the end... the last battle took place on a bridge, Chi under disguise as one of the carriage carriers that held the govenor aloft; took his chance and almost succeeded. Chi was distracted by the Shi's dying scream and the govenor stabbed Chi, everything changed then. Chi fought his way to her and held her as she died in his arms. Pissed, he fought his way back to the governor but was interupted by Yin who at last came to Chi's side and said that he would die for him. Side by side at last as brothers with their memories flashing before them, of when they had held their breathe under water with their comrades... They both fought through an overwhelming number of armies but the movie ends and they never reach the evil govenor. This would have made a great love story, a gem imbedded in this war-torn film. All I know is that the Shi seems to love Chi and he cares for her in return but this love didn't blossom, stunted by their vegeance, revenge, the indent to end the evil governor's reign. Ultimately failing. It's bittersweet. It's sad that brothers and friends were torn apart and a love didn't have the chance to bloom into something more wonderful.
Holly F.
½
[b]Flesh + Blood[/b] - This movie is WEIRD. 6.5/10 [b]The Aviator[/b] - After [i]Gangs[/i] I was worried that Marty was loosing it. I am reassured he is fine with this one. [b]Fighter in the Wind[/b] - A very solid Kung Fu flick, quite enjoyable. You'll laugh, you'll cry, you'll beg for more. 8/10 - stupid movie finder... [b]Sword in the Moon[/b] - CHAOTIC editing...geez, one flashback lasted half and hour! Hell, I'm forgetting what is going on back in the future, or...wait...what? I'm lost. Still the fighting was sweet. [b]Stander[/b] - Not bad for direct to video. Also, this may be the only movie ever that Debra Kara Unger didn't bare all. [b]Hiroku the Goblin[/b] - This movie was great...this is one of the fun horror films that I wish I had on my resume. Silly at times, bloody as hell, and even a couple righteous scares. Plus, some good special effects at the end. If you liked [i]Tetsuo: The Iron Man[/i], you must check this out. 8.5/10
Kaneda !
Discussion Forum
Discuss Sword in the Moon on our Movie forum!