Sword of the Valiant
(1984)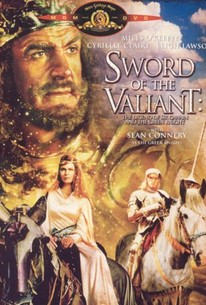 AUDIENCE SCORE
Critic Consensus: No consensus yet.
Movie Info
Set during the colorful days of King Arthur, this lively medieval adventure offers a humorous retelling of the classic tale of Gawain and the Green Knight.
Audience Reviews for Sword of the Valiant
Despite it's uneven pace, deja-vu plot, cheesy lead, 'Sword of the Valiant' is an entertaining sword and sorcery film.
Matthew James
I saw this when I was a little kid and for some reason it just popped into my head recently. I didn't really remember too mu of it other than the long voyage to track down the swordsman (didn't even remember he was green.) I did have bit of the song in my head for days. I tracked this down to watch it as an adult. It's about an old tale of a a green knight who makes a bet that no one can cut off his head with head with one blow. They do and he puts his head back on. This movie really was not as good as I remembered. It was pretty damn cheesy. Tons of over acting. They jumped from one situation to the next. At one point after 4 hours of knowing a woman he declares his love for her and tells her how their love can move mountains. It's just bad... Funny too watch, though.
John Trifiletti
A boring, but sometimes hilariously-poorly done film. Not hard to believe this killed the director's movie career. It's sad because this is a very interesting story (at least the source material was), but they screwed that up with bad actors (minus Connery and a few others), a terrible synth score and probably the worst set design/art direction I've ever seen. For Connery fans only (and even then... yeesh.)
Jeff Bachman
Sword of the Valiant Quotes
There are no approved quotes yet for this movie.
Discussion Forum
Discuss Sword of the Valiant on our Movie forum!