Swordsmen in Double Flag Town (Shuang-Qi-Zhen daoke)
(1991)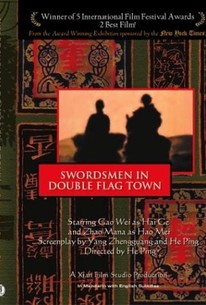 AUDIENCE SCORE
Critic Consensus: No consensus yet.
Movie Info
Reviewers report that this Chinese film belongs in two seemingly incompatible genre categories: it is a martial arts/revenge action film, set in a thoroughly Chinese version of America's Old West. In the story, Haige (Gao Wei) is a boy who has unusual skill in using a martial arts twin-sword technique. This comes in handy when the brother of an important military nobleman tries to rape his fiancee. He becomes a hunted man, and in order to ensure his girl's (and his own) continued safety, must in turn hunt down and destroy a nest of criminals who have taken over an entire town. Fortunately, his skill with the swords would make a Benihana chef proud, and he slices, chops, and dices with great skill and dispatch. ~ Clarke Fountain, Rovi
Critic Reviews for Swordsmen in Double Flag Town (Shuang-Qi-Zhen daoke)
There are no critic reviews yet for Swordsmen in Double Flag Town (Shuang-Qi-Zhen daoke). Keep checking Rotten Tomatoes for updates!
Audience Reviews for Swordsmen in Double Flag Town (Shuang-Qi-Zhen daoke)
Officially the first feature by Ping He, the director of "The Warriors of Heaven and Earth" (2003). This film is one of the most important Chinese films made in the last 20 years, for it is the pioneer of modern Chinese action entertainment films. Also, it is the first successful and recognized film which uses the huge desert area in western China as the setting of an action film - In 80s, only those human dramas by the 5th generation Chinese film directors, such as "Yellow Earth" (1984) and "Life on a String" (1991) by Kaige Chen, used desert as setting mainly to add symbolic meanings to the story. What Ping He does in this film is, in terms of the setting and the plot, to make Western in China. The film itself is not too good technically. There are some poor parts mainly in how to excite audiences because of its too monotonous story development and editing. Action scenes are not even poor, because it doesn't show the actual sword fighting - usually villains kill people in one cut, and even in very important battle scenes, either you don't see what has happened, because editing is too poor and totally useless cloud of sand (in the last fight). Cheap electronic music does not match at all, especially the cheap sound SFX in scenes in which the hero use supernatural power is terrible. However, there are still some scenes very well crafted and exciting. The plot is very interesting too. If someone or Ping He himself remake this now, it would be much better film. It's worth to check out this film anyway.
Naoya Kugimiya
½
i couldn't finish this one. too much meat chopping. and i don't mean swordfighting. one of the main characters owns a horsemeat restaurant. and they show its operation in detail frequently.
april brooks
Swordsmen in Double Flag Town (Shuang-Qi-Zhen daoke) Quotes
There are no approved quotes yet for this movie.
Discussion Forum
Discuss Swordsmen in Double Flag Town (Shuang-Qi-Zhen daoke) on our Movie forum!