Sympathy for the Devil (One Plus One)
(1968)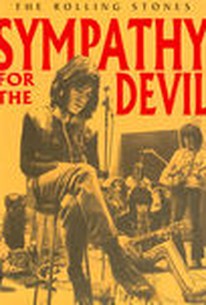 Movie Info
Jean-Luc Godard's Sympathy for the Devil, also known as One Plus One, uses both documentary and staged sequences, alternating between an inside look at a rock band's recording process and reflections on contemporary politics and aesthetics. One half of the film focuses on the Rolling Stones, as they rehearse and ultimately record the song that would become "Sympathy for the Devil." By presenting repeated takes of the entire composition, the film allows the viewer to witness the progressive evolution of the song from its original, slower conception to the more percussive version that became the final recording. The other half of the film -- which is occasionally accompanied by the song -- presents a series of sequences dealing with issues like black power, pornography, racism, and Marxism, amongst others. These sequences, which often focus on a group of revolutionary youth in Paris, provide a chance for Godard to inject political commentary and meta-fictional musings on the nature of cinema. These more cerebral scenes serve as counterpoint to the direct presentation of the creative process seen in the Stones' studio sessions, and provide oblique commentary on the political meanings of popular music. ~ Judd Blaise, Rovi
Critic Reviews for Sympathy for the Devil (One Plus One)
All Critics (6) | Top Critics (1) | Fresh (3) | Rotten (3) | DVD (1)
Not only does the use of the song impose a sense of emotional fulfillment upon a conclusion that does not ask for it, but also the use of the song's title for the movie suggests a meaning that is less interesting.
New York Times
Top Critic
The politics are as muddled as the art is (deliberately?) amateurish.
This was directed by Jean-Luc Godard, so can you really expect another "Live at the Max"?

Audience Reviews for Sympathy for the Devil (One Plus One)
I'm not entirely sure how I feel about this one exactly. What we get here is alternating footage of the Rolling Stones rehearsing and recording various parts of "Sympathy for the Devil" with staged skits that follow Black Panthers in a junkyard reading revolutionary texts and playing with guns, a young lady being interviewed who only answers questions with either 'yes' or 'no', and a really weird Nazi bookstore. There's also scattered about shots of people spraying graffiti and an occasional voiceover of some dude named Sean Lynch who is reading about Marxism, the need for revolution, and things like that. I'm a big Stones fan, and I've always kinda been fascianted by and interested in the Counterculture, Black Power, and Marxism/communism, etc. I also appreciate artsy/experimental cinema to a degree, and have respect for the French New Wave. Given all that, you'd think I'd love the hell out of this movie. But to be honest, this one's a bit of a rough sit. I'm not really sure what Jean-Luc Godard is trying to get at here. I mean, I can kind of see a connection between the song's lyrics (and to a degree, the music) with the wild, revolutionary, political stuff in the vignettes, but I don't think they quite gel together as much as intended. This is all very messy, rough, ragged, and I actually think it helps that I saw a bootleg copy of this. However, much of this comes off as pointless, random, and pretentious. The vignette stuff is basically just made up of things that Godard was into at the time, and to me, the end result just feels like a bunch of intellectual wanking off. I do like though that all of the footage is made up of lengthy unbroken shots, often done with a smoothly tracking dolly, and that the film is at least trying for some kind of great message (or at least trying to capture the politics and music of the day), but I think this could have been better if done as two separate films, one being an analytical look at the recording session, and the other being an omnibus collection of political skits. When put together they come off as, like I mentioned, pretentious. This actually does start off pretty interesting, at least for a while. But after a certain point, it's a bit of a chore to get through, and I have a feeling that this would be a lot less tedious if one views it while chemically altered. Bottom line: this does have its merits, and I love the deconstruction of the 'genius creator myth'. It works best in segments but as a whole, no, not really. Due to my biases though, I'll give this a bit of credit, though I think this should have been a whole lot better.
Chris Weber
Super Reviewer
The only thing Godard hates more than cinema is his audience. I always imagine him, wearing those ostentatious glasses obviously, throwing this in because it's political, ooh and that's philosophical, and don't forget that, that's religious. In my imagination he always ends up like Richard Dreyfus in Close Encounters of the Third Kind, staring into a meta-mass repeating to anyone who will listen, "This means something. This is important." Here my fantasy plays startlingly accurate. That girl from La Chinoise wanders around answering questions with only yes or no. The Black Panthers rattle off propaganda that lost its relevance well before Los Angeles lost its football team. And of course, some people buy books from a Nazi, but not before slapping a pair of Maoists. The scenes of the Rolling Stones recording their fantastic track Sympathy for the Devil are interesting, but the rest in patent Godard pretense.
Professor Street Justice
Godard intercuts the Stones sessions with endless scenes of revolutionaries in the streets. He aims for political context, but he mainly proves that it was the Sixties and nobody had invented the fast-forward button yet.
Robert Fearon
Super Reviewer
Sympathy for the Devil (One Plus One) Quotes
There are no approved quotes yet for this movie.
Discussion Forum
Discuss Sympathy for the Devil (One Plus One) on our Movie forum!