Sympathy for Delicious
(2011)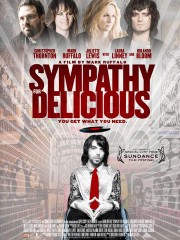 Tickets & Showtimes
Sympathy for Delicious Trailers & Photos
Movie Info
SYMPATHY FOR DELICIOUS marks acclaimed actor Mark Ruffalo's first foray into directing. This inspired and unusual film tells the story of Dean O'Dwyer (Christopher Thornton), also known as "Delicious D," an up-and-coming DJ on the underground music scene in Los Angeles. When a motorcycle accident leaves Dean paralyzed, he abandons his turntables for a wheelchair as his once promising career disappears before his eyes. Forced to live out of his car on skid row, Dean begins his descent into depression when he meets Father Joe Roselli (Mark Ruffalo), a passionate young priest. Father Joe introduces Dean to the world of faith-healing, an unlikely way for him to begin his quest to walk again. He soon discovers that he possesses the otherworldly power to heal people, but in an odd twist of fate, he is utterly unable to heal himself. Despite Father Joe's warnings, Dean angrily decides to use his newfound gift for fame and fortune. He joins a rock band led by charismatic front man The Stain (Orlando Bloom) with bassist Ariel (Juliette Lewis), and manager Nina Hogue (Laura Linney). But his newfound notoriety is unable to cure the hurt that encompasses his life. To find true healing, Dean must ultimately confront his worst demons and come to terms with his own humanity. SYMPATHY FOR DELICIOUS is an edgy rock-and-roll spiritual journey that explores the lasting effects of tragedy, the search for meaning, and the ultimate redemptive power of compassion. -- (C) Maya Releasing
more
Rating:
R (for pervasive language, some drug content and nudity)
Genre:

Comedy

,

Drama

Directed By:

Mark Ruffalo

Written By:
Christopher Thornton
In Theaters:
Apr 29, 2011 Limited
On DVD:
Aug 23, 2011
Box Office:
$13.1k
Runtime:
Cast
News & Interviews for Sympathy for Delicious
Critic Reviews for Sympathy for Delicious
Audience Reviews for Sympathy for Delicious
Cast:Mark Ruffalo, Christopher Thornton, Orlando Bloom, Juliette Lewis, Laura Linney, John Carroll Lynch, Noah Emmerich, James Karen, Nathan Wetherington

Director:Mark Ruffalo

Summary: Struggling for survival on the rough streets of Los Angeles, newly paralyzed DJ "Delicious" Dean O'Dwyer gains the supernatural ability to heal the sick. But he uses the gift to capitalize on his dreams of rock success in this offbeat drama. Written by Thornton, Mark Ruffalo's directorial debut also stars Orlando Bloom as the front man of a rock band and Laura Linney as the group's persistent manager.

My Thoughts: "I wish I could say I loved the film and that Mark Ruffalo did an amazing job at directing. But I just didn't care for the movie or it's character's. The directing was a bit shaky. It wasn't bad but it wasn't great either. I know this story has to do with what Mark's friend Chris kind of went through with trying healing techniques. Orlando Bloom wasn't at all impressive in this role. I'm not sure if it was his acting or the character. I liked Juliette Lewis in this. The story just doesn't play out well. It was just OK and I wish I could say some positive things about the film since I am a big fan of Mark's, but honestly the film fell flat as well as the acting."
♥˩ƳИИ ƜѲѲƉƧ♥
Super Reviewer
½
In "Sympathy for Delicious," Dean(Christopher Thornton, who also wrote), a paraplegic, is disappointed at the lack of results when he is dragged to see a preacher(John Carroll Lynch) by his friend Rene(Noah Emmerich). Dean gets more tangible results from Father Joe(Mark Ruffalo, who directed), a more down to earth man of god, who wants Dean to move out of his car and into an assisted living facility but Dean is holding out for an SRO. On a professional level, Ariel(Juliette Lewis) likes Dean's DJ work so much that she invites him into her band, over the objections of their manager Nina(Laura Linney) who has apparently never heard punk rock before. And that's when news of Dean's healing ability starts to leak out.

Mark Ruffalo is definitely one of the best actors around right now but sadly with his first directorial effort "Sympathy for Delicious," does not show the same level of aptitude, with a fondness for stunt casting and cliched shots of the Los Angeles River. To be fair, I do not think the most experienced of directors would have had much luck with this very uneasy mix of magic realism and rock and roll. So as much as I appreciate any effort to explore the plight of the homeless, wading into Ken Russell's old territory of music gods should never be for the faint of heart.
Sympathy for Delicious Quotes
Father Joe: You're down here living in a car when you don't have to be.
Father Joe: All I know is that you abandoned those to people when they needed you.
Discussion Forum
Discuss Sympathy for Delicious on our Movie forum!
News & Features