Sympathy for the Underdog
(1969)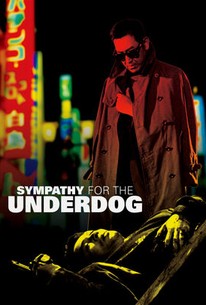 AUDIENCE SCORE
Critic Consensus: No consensus yet.
Movie Info
Filmmaker Kinji Fukasaku first sketched out the lean and uncompromising vision of life among the Japanese Mafia which dominated his acclaimed Yakuza Papers series in this potent crime drama. Gunji (Koji Tsuruta) is a veteran gangster who is eager to return to life in the underworld after spending ten years in prison; however, Gunji soon learns that the yakuza is not what it once was, and there is little call for his personal moral code in a world where crime has become big business, and is operated as such. Striking out on his own, Gunji joins forces with some old compatriots and takes over the liquor trade in Okinawa, but his bold actions make him many enemies among the leaders of the larger and more powerful outfits, and blood must be shed in order to determine who will rule the business. ~ Mark Deming, Rovi
Rating:
NR
Genre:
, ,
Directed By:
In Theaters:
On DVD:
Runtime:
Critic Reviews for Sympathy for the Underdog
All Critics (2) | Fresh (1) | Rotten (1)

Ozus' World Movie Reviews
Sympathy for the Underdog is something of a transitional, minor work, but it is every bit as accomplished in style and technique as Fukasaku's later films.
Not Coming to a Theater Near You
Audience Reviews for Sympathy for the Underdog
It's been almost Two Years since I've written a review, but I would like to write one on a forgotten gem called Sympathy for the Underdog. It was directed by the late Kinji Fukasaku as before his Yakuza Papers series which is his most famous Yakuza films he's ever made, as those films featured lack of Honor and loyality from Yakuza Clans. Here, was his last Straight Forward Yakuza Film which is my personal favorite from Kinji as it was the first Yakuza Film i ever saw from the genre and from the Director himself. But enough I feel like I'm rambling let's get to the review. The Film Focuses on Gunji(Koji Tsuruta) An Ex-Yakuza Chief release from prison after doing ten years for knocking off A former Yakuza Boss. When he comes back, He finds out everything has changed in his Yokohama Turf. His old gang have been Expelled from the Yakuza World as A corporate Yakuza Clan from Tokyo have taken over All Yakuza Turfs and got rid of all small time groups in the area being the only Clan in the City. Realizing he can't do much here in the mainland, Gunji recruits some of his old Clan members and Brings them to Okinawa, an island off the coast of Japan to start off a new Terrority. Throughout their journey, They encounter many Local Yakuza not willing to give up their Terrority to a bunch unknown Hoodlems which leads to bloody brawls and Shootouts with some lives being lost but they Evenutally The Become The Top Gangsters in Okinawa. Until, The Powerful Yakuza Clan from Tokyo notice the Booming Business that Gunji and his Men have created in Okinawa, which leads them to come down and Confront Gunji and his men. Overall, This type of plot has be seen in countless films, but It's made up due to Kinji Fukasaku's Visual Style of Filming, For Example, Fukasaku has a love for Handheld Cameras as a Majority of the battles and fights have Shakey Camera Action which isn't annoying or anything as it brings a raw feel to the film as it's was a documentary or something. Plus his use to Freeze Frames and Screen Text to introduce Characters as well which I will admit, Can be very Confusing and you might get lost but don't get attach too much the character as either it's nobody important or that character might die in maybe ten minutes. Another Praise I give this film is the solid Acting from the Cast. Koji Tsuruta is brilliant as Gunji. Usually in these type of films, The protangist is always a loud mouth, Hot head punk, but here, We are given a middle age Street Smart Man who never has raise his voice to intimate his enemy. Also another Note is that Gunji wears his Sunglasses for the entire movie the only time he takes them off is when he's having Sex with an Okinawa Hooker, How Cool is that! Now even though, I praise this movie many times it's not perfect it does have it's flaws on Character Development and The Lack the of a main Villian. For Example We know little to none on Gunji's Clan. They all have memorable moment in the film but it would of been nice to get to know a little more about these characters, unlike Gunji who narrates the throughout the film. Also Even Though They are A big Time Yakuza Gang that doesn't want to see our Heroes make it through the sunset. The Villians here are nothing to write home about as I felt they didn't have much of an impact as they would in the end as there only see in the the beginning and near the end of the film. But what i will praise is the production Value. As during the Scene when Gunji lands in Okinawa, We get a Beautiful Montage of the streets of Okinawa. What I loved about these Yakuza Films is there On Set locations as it makes the film very real as well. Plus the Jazzy Score the movie brings. It brings out somewhat of a 1930's flavor to the film. Overall, a very Enjoyable film a must see for yakuza fans.
Jonathan Vargas
½
thought this movie was released around 2001; actually this movie was made around 1971. Basic yakuza fare; the lead actor is pretty cool and the plot is mildly interesting, but the supporting cast is rather pedestrian. QA fairly simple story and a pretty unrealistic outcome..nonetheless, held my interest and is an ok watch!
½
Another Fukasaku yakuza flick, with editing and movement as brassy and bold as its jazzy soundtrack. It's an exciting, dynamic picture. I really don't get off on yakuza movies. The plots and characters are all very same-y to me, and I never care about the characters. Yes, there's "sympathy for the underdog", but only because he's the center of the movie and the odds are against him. But for a yakuza movie, it's definitely one of the better ones I've seen.
Martin Teller
Sympathy for the Underdog Quotes
There are no approved quotes yet for this movie.
Discussion Forum
Discuss Sympathy for the Underdog on our Movie forum!