Taffin
(1987)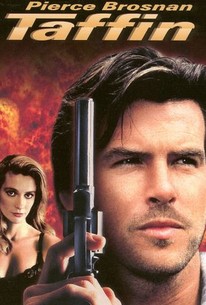 AUDIENCE SCORE
Critic Consensus: No consensus yet.
Movie Info
This melodrama is set in Ireland and follows bill collector and karate master Taffin as he and other try to keep a soccer field from being destroyed by developers. Soon he finds himself involved in a sticky web of blackmail, political corruption and murder all precipitated by the avarice of a major chemical company.
Critic Reviews for Taffin
There are no critic reviews yet for Taffin. Keep checking Rotten Tomatoes for updates!
Audience Reviews for Taffin
½
A little known secret of a movie...Good plot and a already been done to death concept, but interesting piece none the least. The French subtitles got me at first, but if you ignore those and feed into the story...It is worth the watch. A conflicted ex seminary slash priest drop out turned local boy gone bad debt collector...His love interest was kinda' dreamy and the thugs he went up against were over the top psycopaths, but don't take my word for it. Just watch and decide for yourself...
Ken T
½
Even as an outsider in his own hometown as its hired enforcer bill collector hard ass tough guy, Mark Taffin ( Pierce Brosnan ) remains at heart homegrown community based (if not necessarily grassroots) everyman hero living modestly in mums rafters always ready to give the little guy a break and help out with a little straightening out in the little unjust crooks in the flow of local human commerce. Warning; don't live at home if you want to avoid mother always trying to improve you way pass the age where it just does no good any more. He was such a good seminarian. Could of been a greatly respected theologian by now. Theologically philosophically brilliant contributor to many a long evening's enlightenments of discussion with his good friend and decent rousing citizen mentor who comes to seek his fine mercenary services to fend off the big Dublin based predatory developer of toxic underregulated chemical plants who never met a smalltown commissioner he couldn't bribe or arroused citizen he couldn't chase off with plenty of his own mercenaries. With only his sharp wit against the too-big-to-fail he takes them and all their bought officials on and thereby hopefully off the pristine parcel of cow meadow next to the town's only football field they're about to industrially defile. Let the games begin! Well; he ends up winning by losing which ends up losing by winning. And life's just unfair, ain't it?
Ken Lundgreen
Discussion Forum
Discuss Taffin on our Movie forum!