Taitei no ken (The Sword of Alexander)
(2007)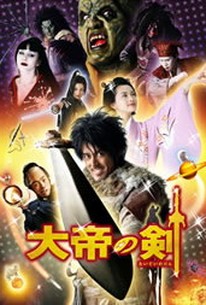 AUDIENCE SCORE
Critic Consensus: No consensus yet.
Critic Reviews for Taitei no ken (The Sword of Alexander)
There are no critic reviews yet for Taitei no ken (The Sword of Alexander). Keep checking Rotten Tomatoes for updates!
Audience Reviews for Taitei no ken (The Sword of Alexander)
½
A hell of a lot of bat shit crazy fun. The action scenes are very exciting, as you never really know what's going to happen. There's blood, dismemberment, and even dead bears coming back t life. The story focuses on two alien races attempting to retrieve 3 items, when joined together, will have incredible power. However, the items have fallen into the hands of a number of wacky characters, such as a giant samurai. When you mix aliens, ninjas, action, and comedy, it's important to always have a lot of fun, which this film does. Even the narrator is hilarious "Aliens? In a period piece? How can this be?". Ilove Japanese movies like this, as they really know how to have fun, and they understand that perfect effects don't make a film great. Enjoyable for anytime of the day.
Luke Baldock
Super Reviewer
This Japanese period fantasy adventure featuring ninjas, warriors, magical weapons and a couple of interstellar aliens thrown in for good measures is so hilarious and action-filled ride.
Dean McKenna
Super Reviewer
To many people, The Sword of Alexander will seem like some cheap-a** stupid Japanese movie. To others this will be a highly entertaining comedic fantasy flick. Guess which category I fall into?
The story is over the top, but it has a lot of things going for it. Robotic spaceships, fantasy-like characters, nonsense comedy, and Japanese ninja action. Yes, that may seem like a lot to handle in a movie, but you will not be as lost as you think. Why? Narration, my good friends. This film has a narrator that seems to jump in at the right times and places to explain the story or event that just took place.
When you first turn on the movie you don't really now what to expect, especially with the opening credits happening at the 10 minute mark, while two alien spaceships are going at it in the background. Before this you get a taste of Kamikaze Girls with the film rewinding itself to fill you in on what you just saw.
This film runs at about 1 hour and 50 minutes, but it never feels that long. There just always seems to be something going on. There is quite a bit of action, CG, and more then enough characters to keep things fresh.
The CG isn't all that great, but it doesn't hurt this film at all. The action is nothing spectacular either, but it isn't horrible. It is even pretty bloody. To be honest, the style of the film looks to be made for a younger audience, but the blood alone makes this film feel R-rated.
The acting is over the top for most and it isn't a problem. This is fantasy after all. Hiroshi Abe is a good lead and Kyoko Hasegawa does a nice job of switching races. Meisa Kuroki of Vexille also sneaks in with a nice role and character.
If you like Gegege no Kitaro or Dororo, this film will meet your expectations.
Taitei no ken (The Sword of Alexander) Quotes
There are no approved quotes yet for this movie.
Discussion Forum
Discuss Taitei no ken (The Sword of Alexander) on our Movie forum!