Tajja
(2006)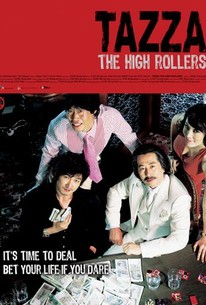 AUDIENCE SCORE
Critic Consensus: No consensus yet.
Tajja Photos
Movie Info
A guy with a talent for cards makes his way into the dangerous world of underground gambling in this crime thriller from South Korea. Go-ni (Jo Seung-woo) is a small-town guy with a big appetite for gambling. Convinced he's on a hot streak one evening during a card game, Go-ni bets his life savings on a hand of hwatu, only to lose to a crooked cardsharp. Determined to get revenge, Go-ni sets out to find the guy who cheated him and win back his money. Go-ni's travels lead him to Pyeong Gyeong-jang (Baek Yun-shik), an unusually gifted card player who has gotten out of the game. Pyeong sees a talented protégé in Go-ni and takes him under his wing, introducing him to Madam Jeong (Kim Hye-su), an equally gifted female gambler. Jeong is attracted to the young and handsome Go-ni and takes him on as both a student and a lover, but the young man soon learns how dangerous a gambler's trade can be when he wins a hefty bankroll from Kwak Cheol-yeong (Kim Eung-su), an underworld kingpin who doesn't take losing lightly. Go-ni also foolishly breaks off his affair with Jeong when he falls for Hwa-ran (Lee Su-gyeong), a beautiful woman who runs a nightspot, and makes an enemy of A-gui (Kim Yun-seok), a thug with a hair-trigger temper who holds a grudge against Pyeong. As the various characters come together for a major hwatu tournament, Go-ni struggles to keep his mind on the game as he's forced to keep his eye peeled for enemies prepared to claim his life. ~ Mark Deming, Rovi
Rating:
NR
Genre:
, ,
Directed By:
Written By:
In Theaters:
On DVD:
Runtime:
Studio:
CJ Entertainment
Cast
Critic Reviews for Tajja
All Critics (3) | Top Critics (1) | Fresh (3) | Rotten (0)
It's a ton of fun, a totally irresistible tale of gambling, greed, love and violence. With gorgeous actors, designer clothes and thrilling action, it's fast-moving (even at 2 hours, 20 minutes) popcorn entertainment.
San Francisco Chronicle
Top Critic
...a sort of demented Karate Kid of the cards

The twists and turns continue until the very end of Choi's mesmerizing, high-energy romp, whose 139 minutes zip by like a round of speed poker.

Audience Reviews for Tajja
This is a great movie. I don't understand how this director has flown under my radar until The Thieves?
Troy Kleasner
½
Fun, good cast, it does feel that it takes way too much time in telling the story, but the characters are well written and engaging. Kim Hye-Su made me touch myself several times.
Tsubaki Sanjuro
Super Reviewer
½
This film sails past 2 hours long going "pfft... 2 hours? that's nothing..." Why does every Korean film have to be an epic? Aside from that, this film is a stylish gambling movie that tracks the rise and fall and rise and fall etc... of a great gambler. Tazza sometimes exhibits some depth, but it's mainly just meant to be a cool and hip flick. Since it's based on a comic, you sometimes have to just resist the urge to question logic or ask questions - like why do people even bother playing against this asshole who chops off ears and hands and takes your money anyway whether you win or lose? and how is that even gambling? Yes - some of the scenarios are a bit far fetched and some of the characters are a bit too cool for school at times, but it's pretty engrossing. I had a really good time with it. I mean, with all its problems and the fact that it was at least 20 minutes too long - it still kept me interested from start to finish. The acting, music, action, effects, settings, lighting and cinematography are all tops.
Max A.
Discussion Forum
Discuss Tajja on our Movie forum!
News & Features