Take Her, She's Mine
(1963)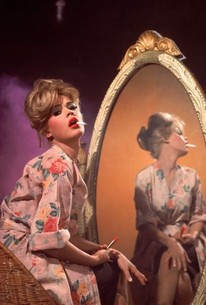 AUDIENCE SCORE
Critic Consensus: No consensus yet.
Take Her, She's Mine Photos
Movie Info
In this generation gap movie of the early 1960s, Sandra Dee is Mollie Michaelson, a teenage rebel enamored with long-haired hippies and radical anti-nuclear political causes. Her involvement in such activities sends her ultra-conservative father Frank (James Stewart) into a tizzy. His reassuring wife is played by Audrey Meadows. Frank's furor deepens when Mollie is sent to Paris on an art scholarship. Back at home, Frank picks up a popular magazine and finds that his daughter has posed on the cover for a radical artist, Henri Bonnet (Philippe Forquet). He pursues her to save her from further degradation, but he ends up in a café in the wrong part of Paris just as it is raided by police. They arrest him on trumped-up and erroneous charges, and he struggles to prove that he's not guilty. This film was based on a play by Phoebe Ephron and Henry Ephron.
Rating:
NR
Genre:
, ,
Directed By:
Written By:
In Theaters:
Runtime:
Studio:
20th Century Fox Film Corporation
Critic Reviews for Take Her, She's Mine
There are no critic reviews yet for Take Her, She's Mine. Keep checking Rotten Tomatoes for updates!
Audience Reviews for Take Her, She's Mine
½
Jimmy Stewart delivers father role with witty commentary. Forget the RT review, this isn't about a girl taking up with long haired hippies! Hey, its 1963 in the Beatnik era when folk and causes were just starting. Jimmy Stewart plays the ever worried father of a very sought after daughter. The movie has lots of cliche moments and funny dialog. Bob Denver of Gilligan's Island and Dobbie Gillis has a bit role as a coffee shop poet with guitar. [img]http://sandradeefans.com/mineposter2.jpg[/img] You can see a clip of Bob Denver here as the then unknown at the time: http://www.tcm.com/mediaroom/video/570305/Take-Her-She-s-Mine-Movie-Clip-Straight-Out-Of-The-Ozarks.html SEE the official trailer here: http://www.tcm.com/mediaroom/video/569042/Take-Her-She-s-Mine-Original-Trailer-.html A father is overprotective toward his teenage daughter as she leaves home to go to college and study abroad in Paris. SEE the entire film comedy here: http://www.youtube.com/watch?v=atFNj6SPKUU While about an hour too long for me I got the general idea of the plot in the first 20 minutes. But its generally a feel good film about parents and their older kids and quite true too! [img]https://encrypted-tbn3.gstatic.com/images?q=tbn:ANd9GcTMHH0O8FWis-b-U5_MjssVpyh2lS77ZYX6tpXeZ92W18PdVHk_gg[/img] The Protest stage of daughter (Sandra Dee) and Bob Denver NOTES: 1 On November 22, 1963, a promotional commercial featuring Sandra Dee was aired on KLIF Radio in Dallas, Texas following one of the first reports concerning the shootings of President John F. Kennedy and Texas Governor John Connally. Shortly after this commercial, KLIF suspended all regular programming and commercials for continuous developments which would evolve into the official announcement of Kennedy's death. 2 The original Broadway production of Take Her, She's Mine played at the Biltmore Theatre on Broadway and ran for 404 performances from December 21, 1961, to December 8, 1962. [img]http://ia.media-imdb.com/images/M/MV5BMTI2OTgwOTgwMV5BMl5BanBnXkFtZTYwNTEzODU2._V1_SY450_SX288_.jpg[/img] The ever sarcastic film is at times hilarious James Stewart as Frank Michaelson Sandra Dee as Mollie Michaelson Audrey Meadows as Anne Michaelson Robert Morley as Mr. Pope-Jones John McGiver as Hector G. Ivor Bob Denver as coffeehouse singer Philippe Forquet as Henri Bonnet Monica Moran as Linda Lehman Cynthia Pepper as Adele Jenny Maxwell as Sarah Charla Doherty as Liz Michaelson Maurice Marsac as M. Bonnet Marcel Hillaire as Policeman Irene Tsu as Miss Wu Charles Robinson as Stanley [img]http://www.movieposter.com/posters/archive/main/33/b70-16610[/img] Here Stewart looks for his daughter (Bob Denver sings) Directed by Henry Koster Produced by Henry Koster Written by Henry Ephron (play) Phoebe Ephron (play) Nunnally Johnson Music by Jerry Goldsmith Cinematography Lucien Ballard Editing by Marjorie Fowler Distributed by 20th Century-Fox Release dates November 13, 1963 Running time 98 minutes Country United States Language English Budget $2,435,000 Box office est. $3,400,000 (US/ Canada) [img]http://upload.wikimedia.org/wikipedia/en/thumb/0/02/Take_Her%2C_She%27s_Mine.jpg/220px-Take_Her%2C_She%27s_Mine.jpg[/img]
monsieur rick
½
The kind of part Jimmy Stewart could play in his sleep, the befuddled dad, but cute of its type.
An anxious father (Jimmy Stewart) worries about his daughter's (Sandra Dee) virtue as she comes of age and starts hanging out with beatniks and protesters. Moderately funny. Bob Denver appears looking exactly like his Dobie Gillis character, but this is a bit better than that series.
Kim Mason
Take Her, She's Mine Quotes
There are no approved quotes yet for this movie.