Takeshis'
(2005)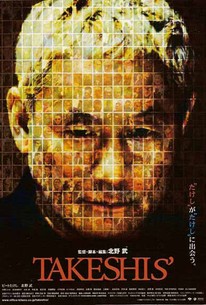 Movie Info
In the latest film by Japanese television comic-turned-cinema auteur Takeshi Kitano, a soft-spoken convenience store cashier named Takeshi Kitano finds his fate inexplicably intertwined with that of ubiquitous Japanese showbiz star Takeshi "Beat" Kitano. At times running parallel and at other times unexpectedly intersecting, the radically different lives of the shy everyman Kitano and superstar celebrity Kitano slowly begin to gel into a surreal fantasy of fame as the convenience store clerk and aspiring actor loses himself to fantasies of becoming his famous look-alike. When the unstable fan purchases a variety of handguns under the guise of preparing for an upcoming role, his obsession with the television and film star threatens to erupt into violence. ~ Jason Buchanan, Rovi
Critic Reviews for Takeshis'
Audience Reviews for Takeshis'
½
Man,that was rock-bottom.Narcissistic to the bone,that's all I have to say.Kitano,you better not disappoint me next time,shit...and why did you have to erupt from the ashes of...twin reality?Orchestrated narrative without the core,veins,hidden sign?Just plain,"amusing" images of you...and you?
Dimitris Springer
Super Reviewer
The strangest Kitano I've seen. As always, this has random bursts of stylish violence. It's like a ride thru Kitano's mind:looks cool, but never makes much sense.
Excellent film. This film is essential to anyone who is interested in what makes Takeshi Kitano tick as an artist. The different ways he views himself while making the movie in his head while we watch him make the movie he is thinking of would leave any audience member scratching their head. But I've thought of this film a lot since seeing it and I think time might shoot it to the top of my favourtie Kitano films.
Christopher Brown
Super Reviewer
Takeshis' Quotes
There are no approved quotes yet for this movie.