Russell Mulcahy's Tale of the Mummy
(1999)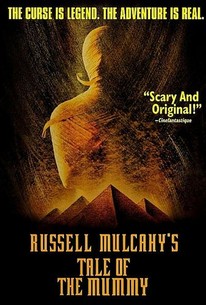 Russell Mulcahy's Tale of the Mummy Photos
Movie Info
Best known for his Highlander series, Russell Mulcahy pays homage to the Hammer films of the 1960s with this all-star recreation of the Mummy story. Centuries ago, a sadistic prince named Talos was buried and his tomb was infinitely cursed so that no man would ever again suffer from his evil ways. But hundreds of years later, a group of archeologists break the seal of the tomb and are brutally massacred. The bandages of Talos are discovered years later by the head archeologist's daughter and brought back to London to be displayed in a museum. But the bandages go on a violent rampage. His evil threatens to spread around the world when the approaching alignment of the planets will raise the legendary Talos to a level of immortal power. The American detective in charge of the affair and the daughter of the archeologist race against time to defeat the malicious mummy. Russell Mulcahy has modern computer graphics techniques on his side in this remake of the classic Mummy monster story. At the same time, he has invited the legendary Christopher Lee to appear in the role of the ill-fated archeologist who discovers Talos. Shelley Duvall and Jason Scott Lee round out the main cast.
Rating:
R
Genre:
, ,
Directed By:
Written By:
In Theaters:
On DVD:
Runtime:
Studio:
Miramax
Critic Reviews for Russell Mulcahy's Tale of the Mummy
Audience Reviews for Russell Mulcahy's Tale of the Mummy
I had never heard of this movie when it was released, but given my interest in the original "Highlander" (which Russell Mulcahy also directed), a like of the Sommers Mummy movies and an appreciation of Christopher Lee movies I decided to give 1999s TALE OF THE MUMMY a chance. I am glad I did! This movie was not at all scary but like the Sommers original MUMMY movie a lot of fun with a good dose of suspense, intrigue and (something the other movie lacked) a great twist in the end. Actually, in some respects I prefer this Jason Scott Lee fantasy adventure horror suspense movie. Firstly in addition to the prelude which includes the Lee cameo, there were a number of recognizable names from British cinema - notably Honor Blackman, Jack Davenport and Sean Pertwee. The movie lacked the flashy special effects of its more famous counterpart, but what it lacked in effects it more than makes up for in plot and real suspense. In many ways it is a superior movie with some great performances by all the principals - including the very beautiful Louise Lombard (who I felt bore a striking resemblance to Amanda Tapping of STARGATE SG-1 fame). Jack Davenport (often mentioned in fan circles as a possible replacement for Pierce Brosnan for the part of 007) also made an impression as a English detective attempting to solve a series of grisly murders in the British capital. The story begins in 1940 with an expedition to Egypt. Sir Richard Turkel (Lee) is excited to hear that after nine months of digging, an entrance has been discovered to a tomb. Moments later however it is up to Turkel to sacrifice his own life in a (successful) attempt to seal off the tomb for (he hopes) all eternity. Skip forward 59 years (it's never explained why it took over half a century) and Sir Richard's granddaughter Sam Turkel (Lombard) is on the verge of entering the tomb first discovered by her illustrious ancestor. The tomb we learn is that of Talos, a Greek religious cult leader who was sent into exile for practicing dark magic, and who subsequently found a new home in the Pharoah's Egyptian court. The finds are transported back to London where they are put on display at the British Museum. Then, after what is believed to be a "break-in" a series of paticularly gruesome murders begin across the city. The murder mystery is an interesting element in this movie, something that is missing from the Fraser-Weisz vehicle that was playing to packed theaters that summer. In fact, without giving too much away it's interesting how this mystery develops in the closing moments of TALE OF THE MUMMY. Overall, I found this a very entertaining and enjoyable movie that should satisfy not only fantasy horror fans, but also mystery fans. Highly underrated it makes good use of location shooting and offers strong production values and an intelligent, engaging plot. You may not have heard of TALE OF THE MUMMY before but one things for sure - you will not soon forget it. Recommended.
Darren Harrison
Dull in every corner and every bit of the Movie.
This really was a poor film , full of corny lines , bad acting and dull special effects. You could tell the director is not English as all the characters were because of some stupid steriotypical moments such as red phone boxes in ever street scene,lemon tea being drunk by bobby's and whats with everyone carrying a gun??? This was not Across 110th Street!.Apart from that the film was dull. Dont confuse this film with THE MUMMY because although the mummy wasnt a masterpiece it was far better than this fair. If you wanna be scared dont bother with this tripe
Cassandra Maples
Super Reviewer
Russell Mulcahy's Tale of the Mummy Quotes
There are no approved quotes yet for this movie.