The Talent Given Us
(2004)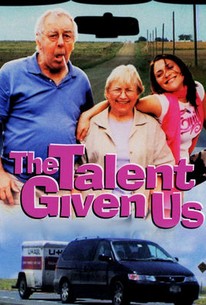 The Talent Given Us Photos
Movie Info
Fact and fiction begin to blur in this comedy drama in which a filmmaker casts his parents, his siblings, and himself in a story loosely adapted from their own lives and personalities. Judy and Allen Wagner (played by Judy Wagner and Allen Wagner) are an elderly couple living in New York City who haven't seen their son, Andrew (Andrew Wagner), in some time. Deciding it's time they paid him a visit, Judy and Allen pack up their van and head out to Los Angeles, where Andrew is trying to make a name for himself as a director and screenwriter. Along the way, Judy and Allen decide to bring their daughters, Maggie (Maggie Wagner) and Emily (Emily Wagner), and the camera plays "fly on the wall" as Judy and Allen openly ponder the successes and failings of their children while they work on crossword puzzles, stop for meals, engage in small talk, and deal with the presence of fellow traveler Bumby (Judy Dixon). The first feature from Andrew Wagner, The Talent Given Us was awarded the Grand Jury Prize at the 2004 CineVegas Film Festival.
Rating:
NR
Genre:
Directed By:
Written By:
In Theaters:
On DVD:
Runtime:
Critic Reviews for The Talent Given Us
Audience Reviews for The Talent Given Us
½
Filmed like a documentary, but some decently-scripted performances are on display... if you can get past a lot of whining.
Chris Hiransomboon
From my perspective, to become interested in the movie, you have to be interested in the characters... There was really nothing about the characters I wanted to become interested in...
Jim rin
½
The first day was interesting. We started off with the earliest showing they do, an 8:30 am, of an extremely experimental film called SUGAR. The entire film takes place in a one room apartment. We never leave it throughout the entire hour and a half of this unscripted film. The woman in the film becomes delirious and drives herself crazy, never leaving her small room. It's a black and white film, extremely bizarre and beautiful. Not much happens, and it's just really weird, but it's good. B INSIDE DEEP THROAT was up next after a really long break. We tried to wait list into THE MATADOR, a comedy with Pierce Brosnan among others. We got to the theatre two hours early, but there was already over a hundred people in front of us and we didn't get in. So we just waited around for INSIDE DEEP THROAT, which was the best doc at the festival. There was just so much going on with the original DEEP THROAT. I knew about much of the controversy, but I didn't know just how fucking huge it was. It's such an amazing documentary- so funny and intriguing and utterly fascinating. It was put together and edited so well. A [img]http://www4.pbase.com/movieman/image/39224305.jpg[/img] Fenton Bailey, Randy Barbato, and Brian Grazer (speaking) [img]http://www4.pbase.com/movieman/image/39224304.jpg[/img] Harry Reams - star of Deep Throat We rushed over to 9 SONGS after which turned out to be the worst film of the entire festival. It's just two people have explicit sex and go to concerts. And by explicit I mean hand jobs and cumshots, full on penetration and fingering. I don't have any problem with it, but it was completely unnecessary and not really beautiful like it should be. I'm sure director Michael Winterbottom went for artistic and beautiful, but it was really neither. It really had a horrible reception and he was supposed to be speaking at a Sex and Taboos panel I attended but dropped out last minute. And I believe the horrible reception is why. D- [img]http://www4.pbase.com/movieman/image/39224928.jpg[/img] Michael Winterbottom speaking, and the stars of the film on either side. I'm not sure who that other guy is. The third day was short at first, with only three films on the roster. But we decided to try and waitlist a film, and were able to get into one more. BRICK started the day off pretty well. Joseph Gordon Levitt is a high school student solving a murder in a modern day noir, full with traditional noir dialogue and beautiful lighting. The film was really good, but didn't have a good balance between noir styled dialogue and regular modern talk. It just didn't really work so well for me. I think he should have left the stylized dialogue out, especially as this is a teen oriented film and most of the viewers to be will never have seen a noir film. But anyway, the story is good, and I did enjoy the film a lot. Joseph Gordon Levitt turned out to be quite the leading man. A- Looking back at the film, over a year later, I've really liked it a lot more than I originally thought I did. Since I saw it, I've looked back on, loving the dialogue a lot. Seeing it in the trailers, and the posters, reminded me of the great film I saw at Sundance a year and two months ago. [img]http://www4.pbase.com/movieman/image/39224301.jpg[/img] Joseph Gordon Levitt speaking, director Rian Johnson on the right, and the rest of the cast around them. KUNG FU HUSTLE followed, and while I kept falling asleep in the middle of the film, I saw most of it, and enjoyed the hell out of it. It's a pure action comedy of the highest caliber. I was just so sleep deprived by that point because of midnight movies following by 9am movies. But I will definitely be seeing the film again when it's released in theatres in a couple months, and SHAOLIN SOCCER will be added to my queue when I get home. A [img]http://www4.pbase.com/movieman/image/39224311.jpg[/img] Steven Chow and his interpreter. So THE TALENT GIVEN US was the movie we successfully wait-listed in to. THE TALENT GIVEN US was one of the more interesting films I've seen here. The director used his family as actors in a film based on his personal life. So it was his parents and siblings playing themselves in a scripted version of their life. Cool huh? It doesn't seem like it should work, as they're not actors (with the exception of one his sisters who is a working actor) but it works perfectly. And we follow his family on a cross country trip to find the director of the film. It's really funny and touching, and all the actors/family whatever you want to call them, do an awesome job. A [img]http://www4.pbase.com/movieman/image/39224468.jpg[/img] The director on the right, and his cast and sounds guy on the rest of the stage. The second worst film at the festival followed next, SHAKESPEARE BEHIND BARS, a documentary about a theatre troop in a Kentucky jail who perform a Shakespeare play ever year. This year they're doing THE TEMPEST, and it's hard for me to believe the film got in the festival on its own merits. The film was made in a Sundance documentary workshop, so because of that, I think that's why the film was admitted into the festival. SHAKESPEARE BEHIND BARS is a poorly shot film, with an interesting subject but uninteresting and dull subjects. I never got around to caring about the play or the actors. I do have to say the score was awesome. D
David Heffler
The Talent Given Us Quotes
There are no approved quotes yet for this movie.