Tales From the Crapper
(2004)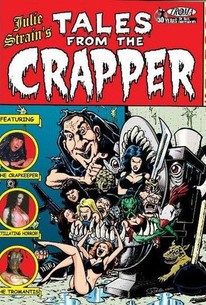 AUDIENCE SCORE
Critic Consensus: No consensus yet.
Movie Info
For those who find Lars von Trier's film movement Dogma 95 too highbrow, the folks at Troma films created Dogpile 95. Tales from the Crapper, the first production to wear the Dogpile label, stars softcore queen Julie Strain in a frenetic omnibus of gore and nudity. Allegedly shot over three years with six directors and 15 writers, the film is hosted by Troma founder Lloyd Kaufman and also features fat guys, talking penises, lesbian love scenes, vampires, UFOs, and appearances by infamous porn star Ron Jeremy and rockers New Found Glory.
Rating:
NR
Genre:
,
Directed By:
Lloyd Kaufman
,
Dave Paiko
,
Debbie Rochon
,
James Gunn (II)
,
Julie Strain
,
Kevin Eastman
,
Masuimi Max
,
New Found Glory
,
Ron Jeremy
,
Gabriel Friedman
,
David Paiko
,
Brian Spitz
Written By:
In Theaters:
On DVD:
Runtime:
Audience Reviews for Tales From the Crapper
Gosh this is awful, a little bit funny, but it's basically a fetish porn.
Sylvester Kuo
Super Reviewer
I wish I could give this a negative rating! I made it through about 10 minutes and had more than enough.
Jadrien Deibler
This is a terrible movie and you should not watch this. Now I am going to tell you why. The folks at Troma have brought us lots of low budget, low-grade movies that still managed to be entertaining and charming. This time, they decided to go for a spoof of Tales from the Crypt, but seeing as that show was a bit of a spoof all by itself, I don't think the concept works at all, especially because this movie did not seem to be trying at all. Maybe if they had given us a cheesy skeleton puppet that might have been cute, but it was just Kaufman with a garbage bag on his head. Truly bottom of the barrel stuff, even for him. When the tales get going, there seems to be some potential. We get some gore and monsters, plus a LOT of nudity. I applaud them for the sheer volume of flesh they crammed into this movie, but the whole thing just never gels. There were some entertaining but very brief cameos. Sadly, it lacks the charm and sense of fun that other Troma movies have. While I am constantly fascinated by the twisted, the perverse, the bizarre and the gross, I actually found myself embarrassed to be watching this movie, and there was no one else in the room at the time! Even Ed Wood would have hated this movie.
Robert Burnham
Discussion Forum
Discuss Tales From the Crapper on our Movie forum!