Tales from the Crypt Presents Bordello of Blood
(1996)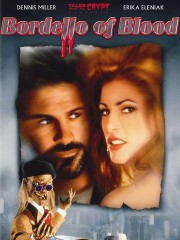 TOMATOMETER
AUDIENCE SCORE
Critic Consensus: Bordello of Blood is not as scary or funny as it thinks it is (or should've been), and all of Dennis Miller's lines sound like castoffs from his stand-up material.
Tickets & Showtimes
Tales from the Crypt Presents Bordello of Blood Trailers & Photos
Movie Info
Any fire-and-brimstone preacher who has longed to purify the earth of sinners will sympathize with preacher Jimmy Current (Chris Sarandon), who has gained control of a bevy of vampire beauties and is now the de-facto owner of a combination bordello and slaughterhouse for sinners. However, when the brother of Katherine Verdoux (Erika Eleniak), one of his strongest supporters, gets sucked in, his carefully designed setup begins to unravel. Katherine has hired Rafe Guttman (Dennis Miller) to find him. Fans from the HBO television series will recognize their old friend, the Crypt Keeper, and rejoice in his bad puns. This movie keeps up the tongue-in-cheek/maximum gore tradition of the series, and Whoopi Goldberg makes a brief (unbilled) appearance.
more
Cast
News & Interviews for Tales from the Crypt Presents Bordello of Blood
Critic Reviews for Tales from the Crypt Presents Bordello of Blood
All Critics (32) | Top Critics (7) | Fresh (4) | Rotten (28) | DVD (3)
Adolescent boys might groove to the mix, but most other ticketbuyers will avoid this tawdry opus like the plague.
Triple the length of its cable television inspiration, Tales From the Crypt Presents Bordello of Blood is triple the gore, triple the naked women, but not, alas, triple the fun.
Washington Post
Top Critic
What it lacks in irony and suspense, Gilbert Adler's Tales From the Crypt Presents Bordello of Blood makes up for in whimsy and cheeky self-assurance.
Los Angeles Times
Top Critic
Vampires aren't the only things in Bordello of Blood that can't stand up to daylight. Neither can the plot.
New York Times
Top Critic
... a macabre, jokey affair that could give Buffy the Vampire Slayer a run for its money as the silliest undead story of the decade.
This sickeningly puerile mess will be attractive only to teen boys who aren't too picky about special effects or scripts.
Audience Reviews for Tales from the Crypt Presents Bordello of Blood
Another tongue in cheek blood 'n' guts rampage this time including lots of tits 'n' ass too...so its pretty darn good then. An unoriginal vampire tale this time, set in a brothel with lots of ladies eating biker types much like 'From Dusk Till Dawn' or 'Vamp' but nowhere near as good.

Plot is pretty standard but like the previous Crypt flick is does have a wonderful array of makeup and prosthetic effects all over the show with blood squirting and fangs flying, nothing you haven't seen before but it looks good. Casting is drab but does include 80's horror comedy star Sarandon and 80's teen star Feldman both of which raise the film slightly, Angie Everhart looks delicious as 'Lilith'.

You know what your gonna get with this franchise so your either gonna love it or hate it. Personally I view these films as a great opportunity to see fantastic examples of hands-on horror makeup effects, normally without much CGI, plus they are always good fun on a no-brainer level.
A mediocre horror comedy with bad acting, Bordello of Blood is a lacking vampire yarn that has a good idea ruined with a terrible cast. This is a pointless attempt at a horror comedy, and the result is a mediocre film that is not memorable whatsoever. The film has really no meaning, and as a vampire film it fails. This film proves yet again that Dennis Miller plainly sucks. The film tries to be something entertaining, and sometimes it does work, but we see that the cast and filmmakers are trying to make something that really doesn't work well. The film is a poor attempt at a vampire tale, and it's quite forgettable. I really didn't enjoy this film, and I can name many other vampire films that are better than this one. Bordello of Blood is a forgettable horror comedy that is poorly crafted with minimal to no scares, and relies more on the gore factor to create horror. As far as vampire films are concerned, Bordello of Blood belongs in the same category as Twilight and all, the other failed vampire films. I lost interest in this film, and I thought it was a pretty lame film with no redeeming factors. Dennis Miller is terrible, and I don't even know why they asked him to be in this, I guess it was to make it entertaining. Well, this film is quite frankly a missed opportunity at being an entertaining vampire film. Boring, uninspired and bad, Bordello of Blood won't appeal to die hard vampire film fans. I was very disappointed with this one. Considering the casting of Chris Sarandon from Fright Night, I was expecting something great, instead it was a boring film.
Tales from the Crypt Presents Bordello of Blood Quotes
Discussion Forum
Discuss Tales from the Crypt Presents Bordello of Blood on our Movie forum!
News & Features