Tales from the Golden Age
(2011)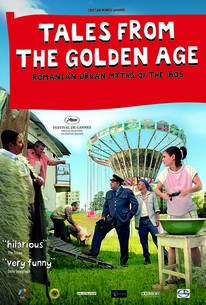 Tales from the Golden Age Photos
Movie Info
The final 15 years of the Ceausescu regime were the worst in Romania's history. Nonetheless, the propaganda machine of that time referred without fail to that period as "the golden age"... Tales from the Golden Age adapts for screen the most popular urban myths of the period. Comic, bizarre, surprising myths abounded, myths that drew on the often surreal events of everyday life under the communist regime. Humor is what kept Romanians alive, and Tales from the Golden Age aims to re-capture that mood, portraying the survival of a nation having to face every day the twisted logic of a dictatorship. -- (C) Official Site
News & Interviews for Tales from the Golden Age
Critic Reviews for Tales from the Golden Age
Audience Reviews for Tales from the Golden Age
Five shorts from a five-director team make up this brilliant portrait of Ceausescu's Romania, each of them revealing a sad truth about how tough life was but coming at it from a whimsical and vaguely nostalgic angle. (The title refers, of course, to what the dictator himself named the time during which he ruled, and is used ironically, here.) We start in a small town, in which the residents go to pains to prepare for a government visit; then, we move inside the party machine and follow a photographer as he bungles an official photo while trying to both make his superiors proud (idealogues, all of them) and hit the deadline for the morning paper. A young woman gets in league with an attractive scammer who loves watching Bonnie and Clyde in a story that feels a lot like Badlands. A family gets the pig it was promised, but instead of it being already butchered, it's delivered alive to their tiny apartment. And finally, we follow a truck driver transporting chickens for export in order to afford to buy eggs, in an attempt to give his wife the one thing she wants and maybe restore the love to their marriage. Each vignette closes with a fairy tale-esque ending - though none of them are "they lived happily ever after" - and a moral, making the fusion of folktale and urban legend complete and providing a window into the difficulties of life in 1980s Romania. The acting is a little weak in places (you can tell even if you don't speak Romanian), and on the whole the film feels a bit too long (nearly two and a half hours), but Cristian Mungiu is a rising star of cinema and this work does not otherwise disappoint. Definitely a film maker to keep an eye on - I have a feeling he's going to get a big U.S. or U.K. or French budget and wow us one day soon.
Daniel Perry
Super Reviewer
I don't know but, despite the rating, this film didn't really do it for me. The best thing about the movie is just finding out about the myths that were around during the last 15 years of Ceausescu's regime. It's cool to find about the mindset of the Romanian people during these hard times and how they survived. The thing with the movie is that the first 3 short films are all really good. The last half of the 4th one was also very good and the last 2 short films simply didn't match up. I don't want to say they're bad but perhaps they should've had the short films in reverse order. That way you save the best for last instead of having the movie peak at 20 minutes into it. Again not that I'm saying any of the short films themselves are bad, but it is a mixed bag. The first short film would have to be the funniest of them all, at least in my opinion, but they're all decent and they all sort of reflect the thoughts of the Romanian people at that time. So while I wouldn't exactly recommend it, I did somewhat enjoy my time with this movie, even if it was a bit of a disappointment. I just have a feeling that these myths sort of read better than being told in movie form.
Jesse Ortega
Super Reviewer
A dramatization of five urban legends that circulated in Romania under communist rule: propagandists make an error retouching a photo of Ceausescu, a family tries to figure out hoe to kill a live pig in their apartment without alerting the neighbors, and people run scams to acquire bottles and eggs. It's important as a document of folkloric resistance, but non-Romanians will likely be bored by this series of mildly ironic shaggy dog stories.
Tales from the Golden Age Quotes
There are no approved quotes yet for this movie.