Tales From the Script
(2010)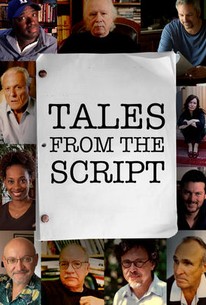 Tales From the Script Photos
Movie Info
Shane Black (Lethal Weapon), John Carpenter (Halloween), Frank Darabont (The Shawshank Redemption), William Goldman (Butch Cassidy and the Sundance Kid), Paul Schrader (Taxi Driver), and dozens of other Hollywood screenwriters share penetrating insights and hilarious anecdotes in Peter Hanson and Paul Robert Herman's TALES FROM THE SCRIPT, the most comprehensive documentary ever made about screenwriting. By analyzing their triumphs and recalling their failures, the participants explain how successful writers develop the skills necessary for toughing out careers in one of the world's most competitive industries. They also reveal the untold stories behind some of the greatest screenplays ever written, describing their adventures with luminaries including Harrison Ford, Morgan Freeman, Stanley Kubrick, Joel Silver, Martin Scorsese, and Steven Spielberg. -- (C) First Run Features
News & Interviews for Tales From the Script
Critic Reviews for Tales From the Script
Audience Reviews for Tales From the Script
A disappointingly unimaginative documentary made with no cinematic flair at all -- more reminiscent of DVD bonus content than anything. It is simply a series of interviews with more and less known script writers, cut together. The interviews are fine and at times insightful, it's just that it is nothing more than a long series of interviews with screen writers, split up into chapters, with each chapter introduced by a little movie scene about screenwriting. A wasted effort, all in all.
Jonathan Hutchings
Super Reviewer
½
To be honest, I was disappointed that the documentary "Tales from the Script" had less to do with the art of screenwriting than in oft-told tales of how to survive as a writer in Hollywood, especially in this day and age of blockbusters and franchises. Basically, the screenwriters testify(with a wide variety from the best to the worst) how this came about due to Hollywood films being a collaborative art form but one where the screenwriters have little say in the finished product after input from actors, producers, directors and caterers.(But wouldn't "The Social Network" prove this line of thinking wrong?) Most of this interference is viewed as negative while some is actually kind of helpful. Where the documentary goes wrong is in taking an anecdotal approach instead of an academic one to investigate the script changes which is what Harlan Ellison has done elsewhere for decades for his television scripts. Because how else are we to honestly judge if the scripts are any good in the first place? For example, you can see how much better "Buffy the Vampire Slayer" is on television where Joss Whedon had more control of his creation, than as a movie. Plus, it would have been nice to have some directors and producers on hand to either counter or agree with the writers. And if you're going to reference movies about Hollywood writers, how could you leave out "The Player?"
½
A detailed and informative documentative stance on the role of the screenwriters in the film process. Interviews with such greats as Frank Darabont and Billy Ray gave an aspiring view to all screenwriters working today.
Spencer S.
Super Reviewer
Tales From the Script Quotes
There are no approved quotes yet for this movie.