Tales of Manhattan
(1942)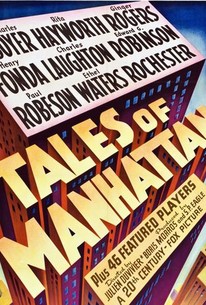 AUDIENCE SCORE
Critic Consensus: No consensus yet.
Tales of Manhattan Photos
Movie Info
Tales of Manhattan is a sumptuous multipart film centered around a formal tailcoat. The coat is specially designed for stage actor Charles Boyer, who wears it during a rendezvous with his lady friend (Rita Hayworth). The lady's husband (Thomas Mitchell) shoots Boyer, thus the tailcoat is damaged merchandise and sold at a discount to a bridegroom (Cesar Romero). When the groom's peccadillos catch up to him, the bride (Ginger Rogers) chooses to marry the best man (Henry Fonda) instead, and the coat is shipped off to a second hand store. It is purchased by a would-be composer (Charles Laughton), who wears it the night that he is to conduct his first symphony; alas, the coat is too tight and tears apart, nearly ruining the conductor's debut. Stitched back together, the coat is donated to a skid row mission, wherein the kindly proprietor gives the coat to a down and out drunkard (Edward G. Robinson) so that the shabby gentleman can attend his 25th college reunion. Later on, the coat is stolen by a crook (J. Carroll Naish) in order to gain entrance to a fancy charity ball. The crook holds up the ball and stuffs the loot in the pockets of the coat, but while escaping in an airplane he loses the outer garment. The coat floats down to an impoverished African American shanty community; a farmer (Paul Robeson) decides to distribute the "money from heaven" amongst his needy neighbors. At the end, the tattered coat adorns the shoulders of a scarecrow. Tales of Manhattan is one of the best "portmanteau" dramas turned out by Hollywood; it was directed by French expatriate Julien Duvivier, a past master of the multi-story technique.
Rating:
NR
Genre:
, ,
Directed By:
Written By:
Lamar Trotti
,
Alan Campbell
,
Samuel Hoffenstein
,
William H. Morrow
,
Buster Keaton
,
Donald Ogden Stewart
,
Ladislas Fodor
,
Ben Hecht
,
Edmund Beloin
,
Ferenc Molnár
,
Laszlo Vadnay
,
Henry Blankfort
,
László Görög
In Theaters:
On DVD:
Runtime:
Studio:
Twentieth Century Fox
Audience Reviews for Tales of Manhattan
A great chance to see a galaxy of stars all gathered together but tonally the movie is all over the place. The best parts are in the first 3/4 of the film after that it falls apart somewhat.
I guess I'm on a classics kick this week. Tales from Manhattan is an odd little film made up a series of episodes and vignettes where a tailcoat changes the lives of a number of people. Fate can be capricious, though, and some do well and others poorly by owning the coat. With an engaging mix of stories linked together, and a terrific cast of studio power names, Tales of Manhattan is still fun to watch. There's two versions: Either its theatrical release (five stories) or a 'restored' release with the sixth story as part of the disc set. The film isn't without its weaknesses, with a weaker story near the end about a poor black family finding the coat that used far too many stereotypes. However, the love triangles are carried off well, and two of the stories are standouts: Charles Laughton as a struggling composer, and Edward G. Robinson as a man who has lost everything are, in my opinion two of the most heartfelt episodes. Overall, a gem that many people have probably not seen.
This is a really good movie and an under-rated one, certainly! The story is comprised of vignettes--really, an all-star cast--that center around a tail-coat and the adventures of the different men who owned/wore it and the people in their lives. From an adulterous gent who is shot to a composer whose career needs a boost to a Harvard graduate and bum to an African-American man who finds the coat along with a wonderful surprise. This movie deserves acclaim.
Margaret Shelton
Tales of Manhattan Quotes
There are no approved quotes yet for this movie.
Discussion Forum
Discuss Tales of Manhattan on our Movie forum!