The Tall Men
(1955)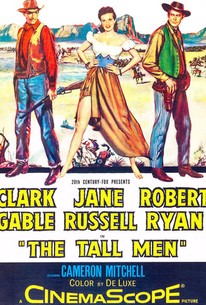 AUDIENCE SCORE
Critic Consensus: No consensus yet.
Movie Info
Clark Gable and Jane Russell star in this rugged widescreen western, exquisitely photographed by Leo Tover and directed by veteran action expert Raoul A. Walsh. Gable plays Ben Allison, who with his brother Clint (Cameron Mitchell) journeys to Montana in search of gold. They come upon wealthy businessman Nathan Stark (Robert Ryan), whom they try to rob of $20,000. Instead, Stark talks Ben and Clint into becoming partners with him on a cattle drive to Montana. As the group travels to Texas, they come upon a party of settlers being attacked by Indians. They save the saucy Nella Turner (Jane Russell) and she joins with Ben, who has been made trail boss, and Clint on the cattle drive. Ben and Nella are attracted to each other but after an initial fling, Nella rejects him -- Ben just wants enough money to buy a small ranch and Nella won't settle for slim pickings. Arriving in Fort Worth, Nella takes up with Stark, whose desire to make as much money as possible coincides with Nella's money-hungry ambitions. But when, at Stark's insistence, she accompanies him on the final trek to Montana, the seething friction between Ben and Stark erupts as the drive heads into dangerous Indian country. ~ Paul Brenner, Rovi
Critic Reviews for The Tall Men
All Critics (4) | Fresh (4) | Rotten (0)
Interesting Western with beautiful landscapes, a Native American hero, and Mexican-Americans as the good guys.
Classic Film and Television
One of Gable's later best features, still as tough and charismatic as ever.

This unpretentious Western handles both the cattle drive and the romantic triangle with relative ease.

Ozus' World Movie Reviews
Audience Reviews for The Tall Men
½
Standard oater with the main attraction being that grand Western vistas were filmed in bigger-than-life Cinemascope, and they are impressive indeed. The work is improved and highlighted by an epic fight against the Indians combined with a raging cattle stampede. Heady stuff. The cast is charismatic enough too, but here's what hamstrings this one up: they are all in stereotypical roles that telegraph the outcome of any interaction long before any of it happens. The whole effort is decent finally, but that's all.
Kevin M. Williams
Super Reviewer
½
Ordinary western dressed up with big stars.
The Tall Men (1955) Two brothers, Ben (Clark Gable) and Clint Allison (Cameron Mitchell) are down-on-their-luck cowboys, after the Civil War, that come riding into a gold mining town in Montana. They try to rob a man, Nathan Stark (Robert Ryan), but Nathan talks the boys into working with him to herd cattle from San Antonio, Texas to the meat-hungry territory of Mineral City, Montana. It's risky, but if they can accomplish this, it'll make them all wealthy men. On their way down to Texas they meet some settlers who feed them. One of the travelers is Nella Turner (Jane Russell). Later, the settlers are killed off by an indian attack. Ben is almost too late but manages to save Nella. They camp out in an abandoned shack and sort of fall in love with each other. However, Nella has high ambitions of living a comfortable life and Ben's dream of ranch living is not for her. On their arrival to Texas Nella re-aquaints herself with ambitious Nathan Stark; a match made in heaven. Ben and Clint have put together the cattle and the men needed to herd them this distance including Ben's old friend, Luis (Juan Garcia) They're shocked to find that Nathan is bringing Nella on this trip with him. Raoul Walsh directs this movie and the technicolor and cinemascope shows the wide expanse of the old west beautifully, and is also great on the wide screen TVs. Also, I loved how he portrayed the Mexican cowboys, the Vaqueros, in this movie. Their horsemanship and bravery are shown to it's finest.
Rick Rudge
The Tall Men Quotes
There are no approved quotes yet for this movie.
Discussion Forum
Discuss The Tall Men on our Movie forum!