Tam Lin
(1971)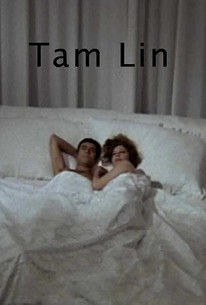 AUDIENCE SCORE
Critic Consensus: No consensus yet.
Movie Info
A pleasure-seeking noblewoman uses contemporary black magic to toy with the young lovers who surround her in this horror movie. The story is also known as The Devil's Widow and The Ballad of Tam-Lin. ~ Sandra Brennan, Rovi
Rating:
PG
Genre:
,
Directed By:
Written By:
On DVD:
Runtime:
Critic Reviews for Tam Lin
There are no critic reviews yet for Tam Lin. Keep checking Rotten Tomatoes for updates!
Audience Reviews for Tam Lin
½
The Ballad of Tam Lin (Roddy McDowall, 1970) The great Roddy McDowall acted in, literally, hundreds of movies and TV episodes over the course of a sixty-year-plus career in front of the camera, doing everything from a turn in Welles' version of Macbeth to low-budget, if fun, schlock like Class of 1984, though he's now all but forgotten in anything save the Planet of the Apes movies. Like so many other actors it's become a cliché, though, McDowall wanted to direct. Like so many other actors, he actually did get a chance once. The operative word there is "once". Charles Laughton directing only once is a travesty, the proportions of which we'll never fully grasp. Roddy McDowall directing once... not so much. Still, it's not a bad little film, for what it is, and it's very much a product of its time. Plot: the film is (obviously given its title) based on the old folk song "Tam Lin", and if you know the song, you know the plot, though it's been updated for a late-sixties British vibe that will remind you of half the other horror films that came out around that time. Ava Gardner (nominated for an Oscar, a Golden Globe, and three BAFTAs over the course of her career, never winning), of all people, plays Michaela Cazaret, an older woman (or, possibly, a witch, a vampire, a faerie, take your pick) who is constatly surrounded by a number of young jet-set types whose very presence keeps her energized. Enter Tam Lin-erm, Tom Lynn (Ian McShane, lately of The Pillars of the Earth), the unwitting monkeywrench in the works. He, like all the rest of Michaela's playtoys, is completely in thrall to her. Until, that is, the appearance of Janet Ainsley (Stephanie Beacham, who would go on to a successful US TV career, including such megahits as Dynasty and Beverly Hills 90210), the local vicar's daughter, who's dropping off a dog from the pound for one of the house's inhabitants. Tom and Janet fall in love, much to Michaela's consternation, and the two of them find out in no uncertain terms how far Michaela will go to keep hold of what she considers her possessions. Let me say that if you're a lover of the late-sixties-early-seventies-updated-Hammer vibe, you can ignore the rest of this review; go see this movie right now, because it is of a piece with that lot, and is totally up your alley. As for me, I've always had a bit of a problem with the genre, and I do here as well. (It's not just in horror films; the same traits drive me bats about, for example, Antonioni's Blow-Up.) When I say, as I did above, that it is a product of its time, I mean more than "you can look at this and instantly tell it was made in the time period"; I mean, it goes out of its way to be timely. Long stretches of the film seem to exist for no reason other than to appeal to the bored, disaffected party set that, I assume, the studio figured were its target audience, and were you to cut those scenes out altogether, the film would not suffer in the least for their exclusion. (In this it reminded me of nothing so much as The Haunted House of Horror, a Frankie Avalon vehicle that had come out the year previous, though I'm sure if you know the genre you can come up with a half-dozen comparisons on your own.) That sort of thing drives me bonkers, either in this guise (as pandering to the audience-think of it as product placement, on a socioeconomic dartboard) or as simply sticking in five minutes of filler here and there to pad your movie. There's far too much of it here, which digs into the space we have for what could have been an interesting story. I know this because what story we get is quite interesting, and what characterization we get is done well. But there's not nearly enough of it to make this more than watchable. ** 1/2
Robert Beveridge
½
if u know the celtic legend of tam lin, then u know the plot of this film. of interest mainly as the only film directed by roddy mcdowall, a late starring role for 48 yr old ava gardner, and a proving ground for young actors like joanna lumley and ian mcshane, the film has a nice hammer vibe, with dreamy folk music by the pentangle, but veers off course in the last third into very cheesy horror territory. reportedly shelved for years until being recut by the studio and renamed 'the devil's widow', it's lately been reassembled more in line with roddy's original vision, which, sad to say, is a little unfocussed. here's a poster
Stella Dallas
Super Reviewer
½
Muddled and plodding but with a good cast and some nice Celtic music this is a failed attempt at a modern tale of enchantment. Ava looks great, this was made just before her hard living ways really laid waste to her appearance. Of interest to see so many actors who went on to greater recognition like Joanna Lumley and Sinead Cusack just starting out in small parts. This went through heavy editing leaving it not without its moments but ultimately missing a point of view.
Tam Lin Quotes
There are no approved quotes yet for this movie.